Experimental Procedures for Bipolar Disorder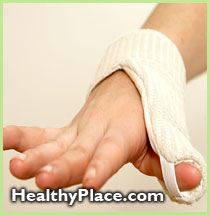 Magnetic Therapy, Electroconvulsive Therapy and Acupuncture are reviewed here as experimental procedures for bipolar disorder.
Magnetic Therapy. Repeated transcranial magnetic stimulation (rTMS) is also being studied for depression and bipolar disorder. Unlike ECT, this procedure appears not to cause seizures, memory lapses, or impaired thinking. The only side effect reported is a mild headache. One study in patients with unipolar depression found that after one year relapse rates were significantly lower after rTMS than after ECT, although only a few small studies have been conducted using this procedure and it still needs refinement.
Acupuncture. The first study on acupuncture as an add-on therapy for bipolar disorder is currently underway in the US. Some studies have suggested that acupuncture may affect part of the nervous system that regulates the stress response, which might aid patients with bipolar disorder.
next: The Impact of Antidepressant Discontinuation on Relapse, Remission, and Mood Episode Cycling in Bipolar Disorder
~ bipolar disorder library
~ all bipolar disorder articles
APA Reference
Tracy, N. (2008, October 19). Experimental Procedures for Bipolar Disorder, HealthyPlace. Retrieved on 2023, December 10 from https://www.healthyplace.com/bipolar-disorder/articles/experimental-procedures-for-bipolar-disorder
Last Updated: April 6, 2017