Is Bipolar Disorder A Biochemical Problem or Something That's Inherited?
Research suggests that genetic vulnerability interacting with an environmental trigger is what causes bipolar disorder.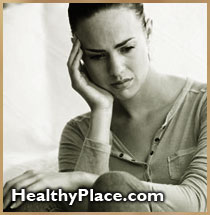 There is no single, proven cause of bipolar disorder, but research suggests that it is the result of abnormalities in the way some nerve cells in the brain function or communicate. Whatever the precise nature of the biochemical problem underlying bipolar illness, it clearly makes people with the disorder more vulnerable to emotional and physical stresses. As a result, upsetting life experiences, substance use, lack of sleep, or other stresses can trigger episodes of illness, even though these stresses do not actually cause the disorder.
This theory of an inborn vulnerability interacting with an environmental trigger is similar to theories proposed for many other medical conditions. In heart disease, for example, a person might inherit a tendency to have high cholesterol or high blood pressure, which can cause gradual damage to the heart's supply of oxygen. During stress, such as physical exertion or emotional tension, the person might suddenly develop chest pain or have a heart attack if the oxygen supply becomes too low. The treatment in this case is to take medication to lower the cholesterol or blood pressure (treating the underlying illness) and make changes in lifestyle (e.g., exercise, diet, reducing stresses that can trigger acute episodes). Similarly, in bipolar disorder, we use mood stabilizers to treat the underlying biological disorder while at the same time recommending changes in lifestyle (e.g., reducing stress, good sleep habits, avoiding substances of abuse) to lower the risk of relapse.
Is Bipolar Disorder Inherited?
Bipolar disorder tends to run in families. Researchers have identified a number of genes that may be linked to the disorder, suggesting that several different biochemical problems may occur in bipolar disorder. Like other complex inherited disorders, bipolar disorder only occurs in a fraction of the individuals at genetic risk. For example, if an individual has bipolar disorder and his or her spouse does not, there is only a 1 in 7 chance that their child will develop it. The chance may be greater if you have a greater number of relatives with bipolar disorder or depression.
next: Disastrous Medication Changes
~ bipolar disorder library
~ all bipolar disorder articles
APA Reference
Staff, H. (2009, January 7). Is Bipolar Disorder A Biochemical Problem or Something That's Inherited?, HealthyPlace. Retrieved on 2023, December 6 from https://www.healthyplace.com/bipolar-disorder/articles/bipolar-disorder-biochemical-problem-or-something-inherited
Last Updated: April 7, 2017