Dyslexia and Learning Disabilities Educational Material
This department contains information and self-help materials related to dyslexia, reading improvement and learning disabilities. The instructional materials capture the interest of children and teens while the fun activities keep them motivated to learn the skills they need to be successful. The information materials promote insight and understanding as well as improve self-esteem.
The Phonics Game
It's Fast, Fun and Effective!

Children, Teens & Adults are up to or above grade level in no time!

Perfect for Children and Teens with ADD or Learning Disabilities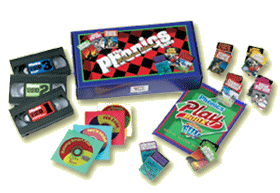 The Phonics Game is an incredible learning tool. In a matter of hours, your children will be reading and spelling better than you ever imagined. Fun, yes! But The Phonics Game is also a complete, systematic, and explicit phonics teaching program for people of all ages! The card games cover all the rules of phonics and when to use them. In no time, your children will be sounding out words easily and fluently. In as little as 18 hours your child can be reading at or above grade level. Young children like it because it's a fun game. Older children and teenagers like it because it makes school easier! Excellent for children and teens with ADD or Learning Disabilities including Dyslexia.
---
Caps Commas, and Other Things
If you are looking for a flexible program to teach writing skills to your child, this book is for you. Activities are appropriate for regular, remedial and ESL students in grades 3 through 12. While the material is arranged sequentially, you can begin wherever the needs of your child dictate. Concentration is on: Capitalization and Punctuation (6 levels) and Written Expressions (4 levels). An Overview section for each level gives specific suggestions for developing individual lessons.
Buy the Caps Commas and Other Things book, when you click here.
---
Cues and Comprehension (Reading)
This series of 4 workbooks aids in developing visual skills needed for increased fluency and reading comprehension. Adaptable for group or independent study, the tests promote visual recognition, memory for words and word sequence and attention to word variations and punctuation. The books increase in difficulty and begin at approximately third grade reading level.
Buy the Cues and Comprehension Workbooks when you click here.
---
Letter Tracking
This program serves a dual purpose effectively teaching the alphabet sequence and the visual discrimination of letters while correcting reversals and rotations and instilling the habit of left-to-right progression that is so essential to the skill of reading.
Buy the Letter Tracking Workbook when you click here.
---
Effective Studying and Test Taking
Parents say this program has brought amazing results for their children. They now have a more positive attitude toward learning and they are enjoying school and getting better grades. Whether your child is in grade school, high school or college, this tape can help his/her potential.
Buy the Effective Studying and Test Taking Audio Tape when you click here.
---
Phonics Remedial Reading Lessons
This classic step-by-step program introduced by three esteemed pioneers in the filed of LD, has been used widely for teaching reading to children who failed to learn by conventional methods. The manual presents a unique one-to-one remedial program that differs from other intensive phonics programs in the consistency with which sound-symbol relationships
are presented and reinforced. Is it multisensory? You bet! The program uses a grapho-vocal method in which the student is instructed to visualize, write, say, and hear the sounds simultaneously as each phoneme is introduced. With extensive reinforcement and frequent review, this format promotes errorless responses that provide a feeling of success and increased motivation.
Buy the Phonics Remedial Reading Lessons when you click here.
---
The Tuned-In, Turned-On Book About Learning Problems

This popular guide book is written especially for PRE-TEENS and TEENS who are having trouble in school because they learn differently from their peers. It offers a positive approach to helping students identify their individual learning strengths and gives many practical suggestions that students can use to "work around" their learning problems. The expanded revised edition contains a new chapter about Attention Deficit Disorder (ADD), several new study tip suggestions and more "homework" for parents and teachers to help them understand what an LD child needs them to know. Great information for LD & ADD kids, their families and their teachers. Also Available: [Junior Phonics]
Buy The Tuned In, Turned On Book on Learning Problems when you click here.
next: Educational Material to Improve Reading and Writing Skills
~ back to ADD Focus homepage
~ adhd library articles
~ all add/adhd articles
---
---
APA Reference
Staff, H. (2008, December 30). Dyslexia and Learning Disabilities Educational Material, HealthyPlace. Retrieved on 2023, October 4 from https://www.healthyplace.com/adhd/articles/dyslexia-and-learning-disabilities-educational-material
Last Updated: February 13, 2016