Educational Material to Improve Reading and Writing Skills
This department contains information and self-help materials related to improving reading and writing skills. The instructional materials capture the interest of children and teens while the fun activities keep them motivated to learn the skills they need to be successful.

Caps Commas, and Other Things
If you are looking for a flexible program to teach writing skills to your child, this book is for you. Activities are appropriate for regular, remedial and ESL students in grades 3 through 12. While the material is arranged sequentially, you can begin wherever the needs of your child dictate. Concentration is on: Capitalization and Punctuation (6 levels) and Written Expressions (4 levels). An Overview section for each level gives specific suggestions for developing individual lessons.
Buy the Caps Commas and Other Thinks book, when you click here.
---

Cues and Comprehension (Reading)
This series of 4 workbooks aids in developing visual skills needed for increased fluency and reading comprehension. Adaptable for group or independent study, the tests promote visual recognition, memory for words and word sequence and attention to word variations and punctuation. The books increase in difficulty and begin at approximately third grade reading level.
Buy the Cues and Comprehension Workbooks when you click here.
---

Letter Tracking
This program serves a dual purpose effectively teaching the alphabet sequence and the visual discrimination of letters while correcting reversals and rotations and instilling the habit of left-to-right progression that is so essential to the skill of reading.
Buy the Letter Tracking Workbook when you click here.
---
Junior Phonics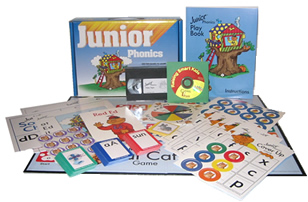 Has Children Reading as Early as Three Years Old.
Starts with prereading skills and moves right on to full reading ability.
It's Fun, Easy and Effective.

Prepare your child to enter preschool, kindergarten or first grade ahead of the rest of the class! Give your children a head start in school with Junior Phonics. Studies and common sense show that children who develop early reading skills are often more successful in school and beyond! Plus they feel great about themselves! A delightful puppet character name "Ed" leads your child on a lively learning excursion through three entertaining videos that teach everything needed to be a superior reader. A colorful board game, cards, charts, reward stickers and more

motivate your children to learn as they play.
---
The Phonics Game
It's Fast, Fun and Effective!

Children, Teens & Adults are up to or above grade level in no time!

Perfect for Children and Teens with ADD or Learning Disabilities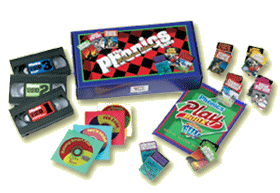 The Phonics Game is an incredible learning tool. In a matter of hours, your children will be reading and spelling better than you ever imagined. Fun, yes! But The Phonics Game is also a complete, systematic, and explicit phonics teaching program for people of all ages! The card games cover all the rules of phonics and when to use them. In no time, your children will be sounding out words easily and fluently. In as little as 18 hours your child can be reading at or above grade level. Young children like it because it's a fun game. Older children and teenagers like it because it makes school easier! Excellent for children and teens with ADD or Learning Disabilities including Dyslexia.
The complete program includes:

6 Progressive Double Deck Card Games
3 Video Tapes
Play Book
2 CD Rom: Fun Zone & Phonetic Readers
Sounds & Spelling Audio CD
The Phonics Fun Zone
Turn your computer in a Phonics Game tutor! The Phonics Fun Zone CD-ROM is a learning breakthrough, because it allows your children to practice their Phonics Game skills independently. Just pop it in and watch with pride as your children become reading "MegaStars!" (This is only sold as a supplement to the Phonic Game. It is not a stand alone phonics program.)
Phonetic Readers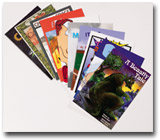 Our new Phonetic Readers work so well..it's almost like outfitting your child's first books with training wheels! The Phonetic Readers were written expressly to follow the progress a child makes playing The Phonics Game. All 10 Phonetic Readers are entertaining, beautifully illustrated and just the right length to guarantee success! Your child's face will light up as he or she travels on a big tan van, rides along with Mat's bike, eats out a Joe's and dances with Celia, the turtle.
---
Additional Resources Available From Our Associates
ADD Focus in association with amazon.com provides the following list of recommended books from their catalog. You can order any book on the list directly from amazon.com at 10% to 30% off the list price by clicking on the "Buy Now" button next to each selection. (A new page will open).

The Read Aloud Handbook (All Ages)
Since its initial publication in 1979, this highly acclaimed reference has informed parents and teachers across the nation and around the world of the importance of reading aloud to their children.
This updated edition features lists of more than 12,000 titles, from picture books to novels, that are great for reading aloud.
---
Building Blocks for Teaching Preschoolers With Special Needs (All Ages)
This book is designed specifically to help students improve their Reading, Comprehension, and Vocabulary Skills. Students using this book will achieve higher scores on state and national competency tests. The Building Blocks for Reading Proficiency Level B is designed for elementary students that are in second through sixth grade BUT reading at the first, second, or third grade level. There are four instructional sections contained in this book: Vocabulary, Comprehension, Read A Book, and Story Frames. Each section contains: Pre tests, Instructional Lessons, Practice Lessons, Extra Practice Lessons, and Post Tests
---

Princeton Review: Reading Smart Junior: Becoming a Star Reader (All Ages)
In READING SMART JUNIOR, our fearless young crew tries to outsmart an evil tycoon bent on ridding the world of books. Along the way, they are introduced to such literary fixtures as Huck Finn, Oliver Twist, and the March sisters from LITTLE WOMEN. The SMART JUNIOR series won the prestigious Parents' Choice Award in 1995 and again in 1997.
---
99 Ways to Get Kids to Love Writing: And 10 Easy Tips for Teaching Them Grammar (All Ages)
Strong writing skills are essential for success in school, college, and on the job. In 99 Ways to Get Kids to Love Writing, educator Mary Leonhardt provides parents with practical, easy-to-follow tips on how to teach their children the fundamentals of writing and make it fun for them at the same time.
---

Encourage Reading
Subscribe to Magazines of interest appropriate to kids' age
---
---
next: Helping Your Child Overcome Spatial Problems
~ back to ADD Focus homepage
~ adhd library articles
~ all add/adhd articles
APA Reference
Staff, H. (2009, January 6). Educational Material to Improve Reading and Writing Skills, HealthyPlace. Retrieved on 2023, December 1 from https://www.healthyplace.com/adhd/articles/educational-material-to-improve-reading-and-writing-skills
Last Updated: February 13, 2016