Combined Behavioral and Nicotine Replacement Therapy for Nicotine Addiction
Therapy and nicotine replacement help smokers quit.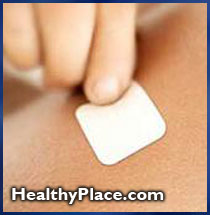 Combined behavioral and nicotine replacement therapy for nicotine addiction consists of two main components:
The transdermal nicotine patch or nicotine gum reduces symptoms of withdrawal, producing better initial abstinence.
The behavioral component concurrently provides support and reinforcement of coping skills, yielding better long-term outcomes.
Through behavioral skills training, patients learn to avoid high-risk situations for smoking relapse early on and later to plan strategies to cope with such situations. Patients practice skills in treatment, social, and work settings. They learn other coping techniques, such as cigarette refusal skills, assertiveness, and time management. The combined treatment is based on the rationale that behavioral and pharmacological treatments operate by different yet complementary mechanisms that produce potentially additive effects.
References:
Fiore, M.C.; Kenford, S.L.; Jorenby, D.E.; Wetter, D.W.; Smith, S.S.; and Baker, T.B. Two studies of the clinical effectiveness of the nicotine patch with different counseling treatments. Chest 105: 524-533, 1994.
Hughes, J.R. Combined psychological and nicotine gum treatment for smoking: a critical review. Journal of Substance Abuse 3: 337-350, 1991.
American Psychiatric Association: Practice Guideline for the Treatment of Patients with Nicotine Dependence. American Psychiatric Association, 1996.
Source: National Institute of Drug Abuse, "Principles of Drug Addiction Treatment: A Research Based Guide."
next: Community Reinforcement Approach (CRA) Plus Vouchers
~ all articles on Principles of Drug Addiction Treatment
~ addictions library articles
~ all addictions articles
APA Reference
Staff, H. (2008, December 31). Combined Behavioral and Nicotine Replacement Therapy for Nicotine Addiction, HealthyPlace. Retrieved on 2023, December 11 from https://www.healthyplace.com/addictions/articles/therapy-and-nicotine-replacement-helps-smokers-quit
Last Updated: April 26, 2019