A Brief History of the National Council on Alcoholism Through Pictures

Marty Mann and E.M. Jellinek
Marty Mann became the first woman to achieve recovery through AA. (Although Bill W. and Dr. Bob formed AA in 1935, Mann only joined AA in 1939. She also spoke of a number of slips she had early on in her recovery.) Mann's thrust was to gain wide public support for the alcoholism-as-disease movement (she was by trade a publicity flack). In pursuing this goal, she formed what eventually became the National Council on Alcoholism, while utilizing the Yale School of Alcohol Studies under Jellinek to establish scientific legitimacy for the disease concept.

R. Brinkley Smithers and E.M. Jellinek
Smithers provided funding for only a few specific research projects — one of which resulted in Jellinek's (1960) Disease Concept of Alcoholism.

R. Brinkley Smithers and Marty Mann
"In 1954, NCA's problems seemed insolvable.... It was now Mrs. Mann's turn to play the optimist. 'there is a rich drunk out there somewhere who will get sober and help us.'.... In 1954, a person who has done as much to advance work in the field of alcoholism as any single person, and who ranks among the greatest influences in the advancement of the cause of alcoholism,... [joined] the ranks of its [the NCA's] leadership.... His advent on the Board of Directors of the National Committee was the catalyst for the development of that agency from a struggling organization to one of...national recognition." (National Council on Alcoholism, 40th Anniversary Commemorative Journal, p. 10)

Thomas Pike
Pike, a member of the NCA Board (1965-78), was at the same time a member of the board of the Rand Corporation when the first Rand Report was published. The Rand reports on alcoholism, in 1976 and 1980, found the resumption of nonproblem drinking by dependent alcoholics was commonplace. Pike attempted to have the first report suppressed, while at the last minute Mary Pendery tried to delay the report so it could be re-analyzed more to her tastes.
---

Dr. Ruth Fox
Dr. Ruth Fox was Medical Director of the NCA from 1958 to 1969. She brought medical credibility to the NCA's efforts.

Selden Bacon
Selden Bacon was a sociologist who was an early member of the Yale Center of Alcohol Studies staff and who directed the Center at the time it moved from Yale to Rutgers in 1962. Later in his career, however, Bacon distanced himself from the disease theory, disliking the implication that this was the only — or the major — source of drinking problems. Bacon also emphasized that the vast majority of drinking was nonproblematic in nature, and that this majority of healthy drinking should be studied. Bacon was a member of the Rutgers Center Committee which awarded Stanton the 1989 Mark Keller Award.

Drs. Frank Seixas, Ruth Fox, and Maxwell N. Weisman in 1973
The medical braintrust of NCA. On the morning the first Rand Report was released, the NCA convened a press conference including Seixas (who was then NCA's medical director) and Weisman to attack the Report.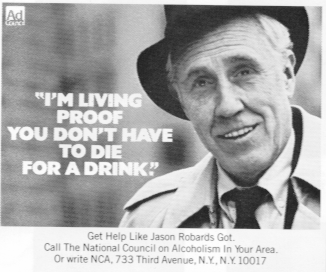 Jason Robards Ad for NCA
Jason Robards was a pioneering alcoholic who used his experience to market the disease model of alcoholism and the NCA.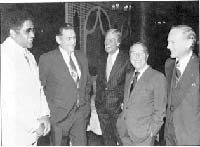 Don Newcomb, Harold E. Hughes, Dick Van Dyke, Garry Moore and Buzz Aldrin, 1976
Before Betty Ford announced her alcoholism and stars began regularly to show up at the Betty Ford Center, a small cadre of admitted alcoholics was featured at NCA events.
---

Wilbur Mills
The 38-year Congressional career of Wilbur D. Mills, an Arkansas Democrat who was chair of the all-powerful House Ways and Means Committee, ended in 1974 after police stopped him driving drunk with companion Fanne Foxe, who proceeded to jump in the Washington Tidal Basin. Mills was actually elected to his final Congressional term the following month, but he lost his committee chair. Mills' initial, glib comment on his behavior was, "Don't go out with foreigners who drink Champagne." Later, his more sober explanation was, "I drank booze, and I mixed the drinks with some highly addictive drugs." After his political career, Mills became a prominent alcoholism lecturer and an NCA board member. As a recovered alcoholic, Mr. Mills explained: "I thought it was a failure on my part. It's a disease from which you can recover and gain back your position in life."

Harold E. Hughes and Mercedes McCambridge
Harold Hughes was an Iowa truck driver, former alcoholic and Kennedy Democrat. He became governor of Iowa from 1963 to 1969, the last Democrat to hold that office. As a Senator, he was known as "Mr. Addiction," and pushed through the 1970 Hughes Act creating the National Institute on Alcohol Abuse and Alcoholism (which, as NCA lore has it, Smithers sold to President Nixon). He also became a board member of the NCA in 1975. Initially, the NIAAA was highly dependent on the NCA for expertise and the NCA on the NIAAA for money — "As a result, the 1976 NCA's budget peaked at $3.4 million, nearly five times what it had been before the passage of the Hughes Act" (National Council on Alcoholism and Drug Dependence, 50th Anniversary).
Between establishing the NIAAA and joining the NCA board, Hughes quit the Senate to work for two religious foundations and established a religious retreat. Hughes described becoming involved with Harold Mulford, an Iowa sociologist and alcoholism activist (one of my heros) in the mid-1960s. But whereas Mulford describes this as the time when he helped to create a wonderful community-based alcoholism treatment system in Iowa, Hughes describes it as a time when he and Mulford began pushing the medical community into dealing with alcoholism.
Mulford, a very gentle man, seems not very fond of Hughes, or certainly of his role in the alcoholism field. For Hughes, the great expenditures and medical dominance of alcoholism that occurred in the 1970s was a Godsend. For Mulford, the cascading monies from the federal and state governments bypassed a self-help, inexpensive, community-based effort in favor of costly, ineffective medical treatments. Almost a decade after retiring from the Senate and his religious phase, Hughes returned to Iowa to create the Harold Hughes Center and became a private alcoholism treatment entrepreneur. According to Mulford, this made Hughes a good deal of money. Hughes died in 1996.
Mercedes McCambridge was an Oscar-wining actress who was an early female celebrity alcoholic for the NCA and who in 1969 became its first honorary chair.
Conversation with Senator Harold Hughes, Addiction, 92:137-149, 1997.
H.A. Mulford, Treating alcoholism versus accelerating the natural recovery process: A cost-benefit comparison, Journal of Studies on Alcohol, 40:505-513, 1979.
H.A. Mulford, Enhancing the natural control of drinking behavior: Catching up with common sense, Contemporary Drug Problems, 321-334, 1988.

Mary Baker (center) with R. Brinkley and Adele Smithers in 1992
Although there was little mention of Adele in NCA and Smithers affairs, after Brinkley's death in 1994 Adele assumed the direction of the Smithers Foundation and became a hard-line defender of abstinence treatment. Speaking on behalf of the NCADD when Moderation Management made the news, Adele intoned, "Millions of Americans have recently seen life-threatening stories in the media claiming that people with alcohol problems don't have to stop drinking completely to get better."
Also, Adele seems to have had a large role in the hiatus in 1993-1995 in contact between the Rutgers Center of Alcohol Studies and the refusal of funding for Rutgers by Smithers after that point due to Rutgers' initiation of a brief intervention, controlled-drinking clinic. Among the last letters exchanged between the Smithers Foundation and Rutgers preceding this rough patch was one discussing me, following my article analyzing the relationship between Smithers and Rutgers in Addictive Behaviors.

Marty Mann presenting nearly invisible Bill W. with first Gold Key award in 1959
Bill W. and Marty Mann represent the two sides of the disease theory. Bill saw it as an expression of his personal suffering and that of other anonymous individuals; Mann as a quasi-scientific vehicle to greater public recognition and acceptance of alcoholism. Bill's flirtations with the occult and with LSD therapy, his discussion of his depression, and his irregular financial affairs made him a loose cannon in terms of the NCA's larger PR goals. Nowadays Wilson's heavy addiction to tobacco, which ultimately killed him, would also be a cause for concern, but through most of the history of AA it wasn't noticed.
Stanton thanks Ron Roizen, Archie Brodsky, and Charles Bufe for their knowledgeable inputs.
Links:
next: Addiction to Get Rich Quick Schemes
~ all Stanton Peele articles
~ addictions library articles
~ all addictions articles
APA Reference
Staff, H. (2009, January 1). A Brief History of the National Council on Alcoholism Through Pictures, HealthyPlace. Retrieved on 2023, September 28 from https://www.healthyplace.com/addictions/articles/a-brief-history-of-the-national-council-on-alcoholism-through-pictures
Last Updated: April 26, 2019