HealthyPlace.com Wins Major Awards for Mental Health Content
HealthyPlace, the Largest Consumer Mental Health Website, Captures Honors at 2011 eHealthcare Leadership Awards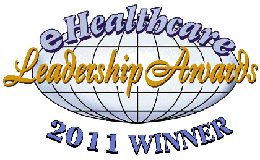 For the second year in a row, HealthyPlace.com has been recognized as a leader in providing trusted mental health information by the eHealthcare Leadership Awards program. At the Fifteenth Annual Healthcare Internet Conference, the HealthyPlace.com mental health website received a Platinum Award for Best Health Content in the Consumer Disease Focused category. In the same category, HealthyPlace also won a Silver Award for Best Overall Internet Health Site.
Winners of the 2011 eHealthcare Leadership Awards were selected from nearly 1,200 entries. A total of 114 individuals familiar with healthcare and the Internet judged the entries. Judges looked at how websites and other digital communications compared with others in their organization's classification. They also reviewed entries based on a proprietary multi-point standard of Internet excellence. The best overall Internet site category, for example, had to pass muster on more than 40 factors, says Mark Gothberg, eHealthcare Leadership Awards chairman.
Gary Koplin, President of HealthyPlace.com noted "this is a great honor and represents the hard work and dedication of the entire HealthyPlace team - from our editors, writers and bloggers to our online mental health tv and radio show producers. I also want to congratulate Patricia Avila, our website manager, whose dedication to excellence is unparalleled. And, of course, thank you to our Medical Director, Dr. Harry Croft."
2011 marked a fundamental change for the HealthyPlace website as it expanded out onto the social web. In addition to the over one million people a month who read in-depth written mental health information on the site, HealthyPlace now reaches tens of thousands on Twitter, Facebook, YouTube and GooglePlus. The site also has a live mental health tv show that's been viewed by over 500,000 people in the last 12 months. In addition, HealthyPlace added a mental health radio show this year.
"For the tens of millions of people living with depression, bipolar disorder, anxiety, and other psychiatric disorders, our goal is to provide trustworthy information and useful resources for understanding, preventing and seeking appropriate treatment of mental health conditions," says Koplin. "We have some exciting plans for 2012 to help us continue with our mission."
About the eHealthcare Leadership Awards
The eHealthcare Leadership Awards program was developed and first presented 12 years ago by eHealthcare Strategy & Trends, a leading industry resource published by Health Care Communications, Rye, NY. More than 300 healthcare organizations, representing a broad industry spectrum, received recognition for their outstanding websites and digital communications. Winners of platinum, gold, silver, and distinction awards represented 17 industry classifications, from hospitals and health systems to pharmaceutical firms and online health companies. Awards were given in 13 different categories: Best Mobile Communications, Best Patient Access and Convenience, Best Site Design, Best Health/Healthcare Content, Best Interactive, Best Care/Disease Management, Best e-Business, Best Doctor Directory, Best Web 2.0, Best Integrated Marketing Campaign, Best Overall Internet Site, Best Intranet, and eHealth Organizational Commitment.
About HealthyPlace.com: America's Mental Health Channel
With one out of every five Americans suffering from some sort of mental or stress-related illness, HealthyPlace.com is a one-stop source for mental health information from experts and from people who are living with psychological disorders and their effects on a daily basis. The award-winning site provides up-to-the-minute information on psychological disorders and psychiatric medications from both a consumer and expert point of view.
This is the second big award for the HealthyPlace.com website in the last month. Earlier, it was announced that the HealthyPlace.com mental health blogs won 3 Web Health Awards
For additional information, go to: http://www.HealthyPlace.com.
HealthyPlace Media Relations
David Roberts
media AT healthyplace.com
(210) 225-4388
APA Reference
Gluck, S. (2011, November 28). HealthyPlace.com Wins Major Awards for Mental Health Content, HealthyPlace. Retrieved on 2023, December 5 from https://www.healthyplace.com/about-healthyplace/media-center/healthyplacecom-wins-major-awards-for-mental-health-content
Last Updated: January 14, 2014