Sociopaths in Relationships: Dating a Sociopath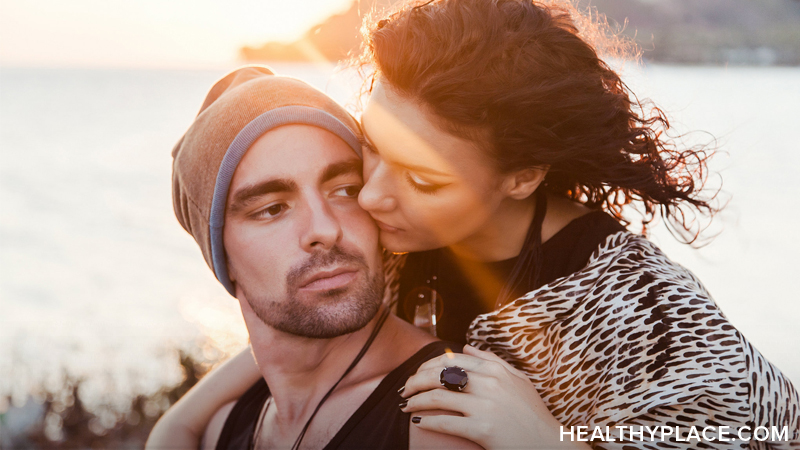 Dating a sociopath, having any type of relationship with a sociopath, is usually a shallow, confusing, one-sided experience.
"Having a psychopath [or sociopath] in your life can be an emotionally draining, psychologically debilitating, and sometimes physically harmful experience" (Babiak & Hare, 2006).
Dating a Sociopath
Unbeknownst to the innocent person about to begin dating a sociopath, she was targeted by him for his personal gain. He'll woo her and sweep her off her feet, and when she decides to date him, she'll think it's her choice. She has no idea that it wasn't her choice at all. From the beginning of the relationship, the sociopath was in control. The real reason she will date him is hidden to her. She'll date him because he's identified her as someone who will meet a need (Sociopathic Traits: Characteristics of a Sociopath.
Dating a sociopath can be marvelous. Mary Jo Buttafuoco was married to a sociopath. Despite all of the difficulties, her sociopathic husband was someone "...with whom I shared a million happy, fun times" (2009). The sociopath carefully crafts his relationships so that he can get his partners to do his bidding, whatever that may be. He treats the person he's dating like a queen so he can get away with sneakily treating her like a pawn. He needs to achieve checkmate, and this is his strategy.
On the surface, dating a sociopath doesn't seem like dating a sociopath at all. The sociopath can't love, but she can fake it incredibly well. Therein lies one of the first problems that comes with dating a sociopath. The relationship is fake. The sociopath has fabricated a character and is playing a role in order to manipulate and control her unsuspecting partner.
A relationship with a sociopath is often one-sided (the sociopath has a selfish motive whereas her partner is emotionally invested in an actually relationship). Because of this, dating a sociopath is usually not a long-term endeavor. Once she feels she has benefited as much as possible from her partner, she'll abruptly leave him in search of her next victim.
Sociopaths and Relationships
Sociopaths are cold and calculating. To a sociopath, relationships are nothing other than a means to an end, some sort of personal gain be it for money, power, sex, amusement, or any combination thereof. Sociopaths in relationships are entirely self-serving (What is a Sociopathic Person Like?).
A sociopath is in total control of the relationship before he even enters it. A sociopath's relationships typically involve three phases:
assessment; he sizes up the prey to decide if it's worth pursuing and, if so, how best to do it
manipulation; this is the actual relationship and is not the "love" or "romantic" or "togetherness" phase but instead is the period of time during which he does what he needs to do to meet his goals
abandonment; sociopaths easily grow bored, and they only go through the trouble of faking a relationship when they have something to gain—when they've gained it, the sociopath's relationship is over.
Sociopaths in relationships see nothing wrong with what they do to the people with whom they're involved. Why would they? Sociopaths feel nothing other than a desire to hurt others and gain something for themselves. They've played the game before, and they'll play it again.
The person who is or was in a relationship with a sociopath, on the other hand, eventually sees many things wrong with the relationship. Here are some signs you're dating a sociopath:
What at first appears to be love and devotion is actually shallow charm and manipulation.
Sociopaths in relationships are confusing. They're insincere and incapable of emotion and empathy; therefore their doting words don't always match their actions

.

Power struggles abound, and the sociopath uses whatever it takes—charm, intimidation, and/or violence—to win. She always wins.
The sociopath is adept at reading his partner, and once he identifies her weak spots, he uses them to manipulate her.
The one-sided relationship with a sociopath leaves the exploited partner full of self-blame and self-hatred. A sociopath is incapable of self-hate, so she walks away unscathed.
Don't bother sticking around to see if the sociopath can change. An opportunistic sociopath doesn't even want to change. Their methods work very well.
"[Sociopaths] can charm the birds out of the trees and tell you black is white, and have you believing it" (Buttafuoco, 2009).
APA Reference
Peterson, T. (2021, December 17). Sociopaths in Relationships: Dating a Sociopath, HealthyPlace. Retrieved on 2023, December 1 from https://www.healthyplace.com/personality-disorders/sociopath/sociopaths-in-relationships-dating-a-sociopath
Last Updated: January 28, 2022