Eating Disorders: 3 Things to Know about Anorexia Nervosa
Here's what's happening on the HealthyPlace site this week: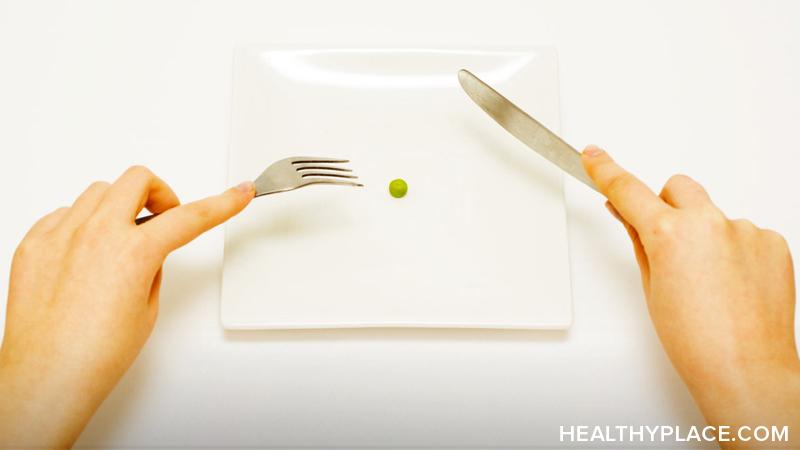 Eating Disorders: 3 Things to Know about Anorexia Nervosa
Eating disorders, among them anorexia nervosa, are serious and can be difficult to understand. Knowing what is involved can help you or someone you know receive appropriate treatment. Below are three essential things to know about anorexia nervosa.
Anorexia nervosa has three main features. Signs of anorexia include very limited food intake, an intense fear of weight gain, and a disturbance of self-perception. Often someone has a distorted and negative view of her size and shape. It becomes the primary way she looks at herself, and she begins to act in ways to "fix" her appearance.
It involves more than eating-related features. It can lead to excessive physical activity which contributes to weight loss and becomes dangerous. People with anorexia often struggle with self-confidence. Many people are inflexible in their thinking, restrained in their emotional expressions, and limited in their social actions. People with anorexia nervosa frequently have a strong need for control.
Mental health problems begin to manifest. Anorexia nervosa leads to symptoms of depression such as low mood, irritability, withdrawal/isolation, and insomnia. Further, people with anorexia can develop food-related obsessive-compulsive signs and symptoms.
When we look beyond the food intake behaviors of anorexia nervosa, we begin to understand the complexities. Then, we can address the whole self and overcome anorexia nervosa.
Related Articles Dealing with Anorexia Nervosa
Your Thoughts
Today's Question: How has anorexia nervosa impacted life? We invite you to participate by sharing your thoughts, knowledge, and experiences on the HealthyPlace Facebook page or the HealthyPlace Facebook page and on the HealthyPlace Google+ page.
---
---
From the HealthyPlace Mental Health Blogs
On all our blogs, your comments and observations are welcomed.
Feel free to share your thoughts and comments at the bottom of any blog post. And visit the mental health blogs homepage for the latest posts.
------------------------------------------------------------------
From HealthyPlace YouTube Channel
Hypomanic Hannah: What Does Hypomania Feel Like?
A major part of living with bipolar 2 disorder is hypomania. Hypomania is a mild form of mania.
------------------------------------------------------------------
Most Popular HealthyPlace Articles Shared by Facebook Fans
Here are the top 3 mental health articles HealthyPlace Facebook fans are recommending you read:
If you're not already, I hope you'll join us/like us on Facebook too. There are a lot of wonderful, supportive people there.
------------------------------------------------------------------
Mental Health Quote
"Take a shower, wash off the day. Drink a glass of water. Make the room dark. Lie down and close your eyes. Notice the silence. Notice your heart. Still beating. Still fighting. You made it, after all. You made it, another day. And you can make it one more. You're doing just fine." - Charlotte Eriksson.
Read more mental health quotes.
------------------------------------------------------------------
That's it for now. If you know of anyone who can benefit from this newsletter or the HealthyPlace.com site, I hope you'll pass this onto them. You can also share the newsletter on any social network (like facebook, stumbleupon, or google+) you belong to by clicking the links below. For updates throughout the week, circle HealthyPlace on Google+, follow HealthyPlace on Twitter or become a fan of HealthyPlace on Facebook. Also, check out HealthyPlace on Pinterest and share your mental health pins on our Share Your Mental Health Experiences board.
back to: HealthyPlace.com Mental-Health Newsletter Index
APA Reference
Peterson, T. (2017, April 4). Eating Disorders: 3 Things to Know about Anorexia Nervosa, HealthyPlace. Retrieved on 2023, December 10 from https://www.healthyplace.com/other-info/mental-health-newsletter/eating-disorders-3-things-to-know-about-anorexia-nervosa
Last Updated: May 8, 2017