Borderline Personality Disorder and Emotion Dysregulation
Here's what's happening on the HealthyPlace site this week:
-----------------------------------------------------------------
People love our Facebook Live events with therapist, Emily Roberts. Emily will be taking your personal mental health questions this Wednesday evening. We start at 7p CT / 8 ET. I hope you'll join us and feel free to invite others. Our page is here: https://www.facebook.com/HealthyPlace/. You can check out our previous mental health Facebook Live here.
------------------------------------------------------------------
---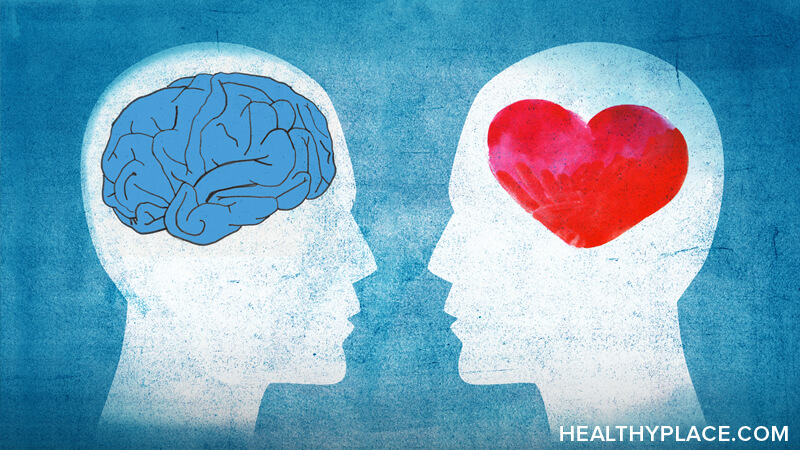 Borderline Personality Disorder and Emotion Dysregulation
Emotional troubles are a significant part of many mental disorders, including borderline personality disorder (BPD).
We have an entire system of our brain, the limbic system, dedicated to emotion. Additionally, our emotions creep around the brain, attaching themselves to our thoughts and influencing our behaviors.
If you live with borderline personality disorder, your emotions might feel overwhelming and out of control sometimes (emotion dysregulation). Emotions make you believe that what you feel is real and undeniably true.
For example, you notice your partner texting. When you approach him, he closes out of his phone and sticks it in his pocket. Your emotions tell you that he's cheating, and your whole mind and body become upset and respond negatively.
Tame the Emotions of Borderline Personality Disorder
Borderline personality disorder makes it hard to trust. Use that to your advantage with your emotions because they're not always trustworthy. To tame them, turn away from them. Here's a way to do it:
Forget feelings. They're there, of course, but don't get stuck.
Focus on fact. What is actually happening? Your partner was texting then put away his phone. That's it.
Repeat these basic facts to yourself to tame emotions.
When you forget feelings and focus on the facts in the moment, your emotions will likely keep talking, but they'll be quieter. Then you can tune into the real moment.
Related Articles Dealing with BPD and Emotions
Your Thoughts
Today's Question: As a person with BPD, when your emotions threaten to take over, what strategies do you use to tame them? We invite you to participate by sharing your thoughts, knowledge, and experiences on the HealthyPlace Facebook page and on the HealthyPlace Google+ page.
---
---
From the HealthyPlace Mental Health Blogs
On all our blogs, your comments and observations are welcomed.
Feel free to share your thoughts and comments at the bottom of any blog post. And visit the mental health blogs homepage for the latest posts.
------------------------------------------------------------------
From HealthyPlace YouTube Channel
I'm Hannah. I Have Bipolar 2
Benefits of Loving Someone with Bipolar Disorder
As a person with bipolar 2 disorder, I'm constantly bombarded with messages about how difficult it is to love someone with bipolar disorder. In fact, it can get so bad at times, I begin to question whether I'm even lovable. With Valentine's Day coming up, I thought this was a good time to talk about the benefits of loving someone with bipolar disorder. (Watch Hannah)
------------------------------------------------------------------
Most Popular HealthyPlace Articles Shared by Facebook Fans
Here are the top 3 mental health articles HealthyPlace Facebook fans are recommending you read:
If you're not already, I hope you'll join us/like us on Facebook too. There are a lot of wonderful, supportive people there.
------------------------------------------------------------------
Mental Health Quote
"What people never understand is that depression isn't about the outside; it's about the inside."
Read more depression quotes.
------------------------------------------------------------------
That's it for now. If you know of anyone who can benefit from this newsletter or the HealthyPlace.com site, I hope you'll pass this onto them. You can also share the newsletter on any social network (like facebook, stumbleupon, or google+) you belong to by clicking the links below. For updates throughout the week, circle HealthyPlace on Google+, follow HealthyPlace on Twitter or become a fan of HealthyPlace on Facebook. Also, check out HealthyPlace on Pinterest and share your mental health pins on our Share Your Mental Health Experiences board.
back to: HealthyPlace.com Mental-Health Newsletter Index
APA Reference
Peterson, T. (2018, February 12). Borderline Personality Disorder and Emotion Dysregulation, HealthyPlace. Retrieved on 2022, September 27 from https://www.healthyplace.com/other-info/mental-health-newsletter/borderline-personality-disorder-and-emotion-dysregulation
Last Updated: February 14, 2018