Depression Management for a More Productive Life
A mental illness that saps sufferers of motivation and energy, depression notoriously impedes productivity. For many people living with depression, even basic day-to-day chores seem to take herculean effort. The inability to get things done is frustrating on its own, but even more maddening is the vicious cycle it perpetuates. You're depressed, so you can't accomplish much, which just depresses you further. But our guest on this week's HealthyPlace Mental Health TV Show says you don't have to always be enthusiastic and creative to be at your best. She says you can learn how to get things done when you're depressed by using the same depression management techniques she relies on in her own life.
How to Get Things Done with Depression Management
No stranger to living with depression, Julie A. Fast is a critically acclaimed author, national speaker, and sought after expert in the field of bipolar disorder and depression management. She is regarded as a mental health pioneer for her groundbreaking, comprehensive approach to treating bipolar disorder and depression using both mainstream and proven complimentary therapies. As our guest on this week's show, Julie discusses how to:
mentally prepare for working while depressed
structure your environment to make working easier
work with others
mitigate the impact of depression on productivity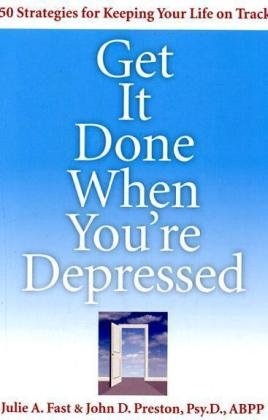 The author (with Dr. John Preston) of Get it Done When You're Depressed: 50 Strategies for Keeping Your Life on Track, Julie experiences depression chronically and practices these strategies in her daily life. You can read more about Julie by visiting her blog.
Video on Depression Management
Watch our video interview with Julie live today at 4pm Eastern Standard Time by visiting the HealthyPlace Mental Health TV Show Homepage. Join the discussion by submitting your questions for Julie via the chat window just to the right of the live video feed.
You can find all mental health video interviews from the HealthyPlace Mental Health TV Show in the table of contents.
Share Your Depression Experiences
Are you living with depression? Have you learned how to get things done in spite of depression? We invite you to call us at 1-888-883-8045 and share your experiences and insights on depression and depression management. (Info on Sharing Your Mental Health Experiences here.) You can also leave comments below.
APA Reference
Gray, H. (2011, January 19). Depression Management for a More Productive Life, HealthyPlace. Retrieved on 2021, October 27 from https://www.healthyplace.com/blogs/tvshowblog/2011/01/depression-management-for-a-more-productive-life
Author: Holly Gray