Recovering From Compulsive Overeating with Josie Lenore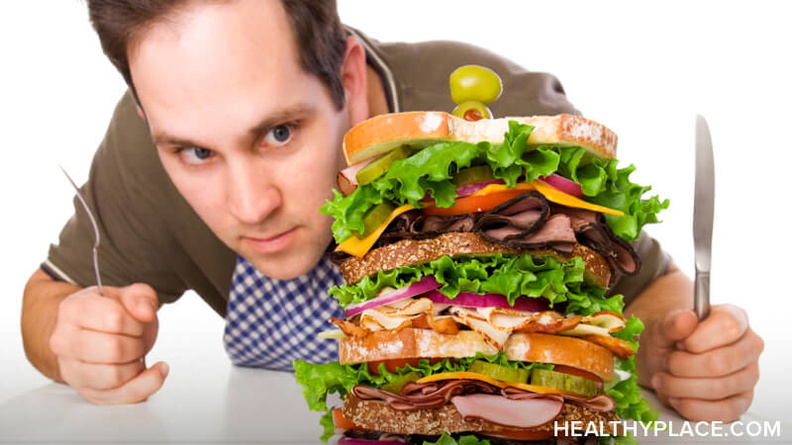 Stopping compulsive overeating isn't as simple as just saying you'll quit. As HealthyPlace.com Medical Director, Dr. Harry Croft explains in this week's blog post, there's a significant emotional component to compulsive overeating.
Most overeaters use food as a way to hide from emotions, fill a void inside, and cope with daily stresses. Many people dealing with compulsive overeating feel guilty for not being "good enough," shame for being overweight, and have very low self-esteem. They turn to food to cope with their painful feelings, which only leaves them feeling worse. Sufferers often have a constant need for love and validation, and without it, may go into obsessive episodes of overeating as a way to forget the pain.
Coping with Compulsive Overeating
As a group, compulsive overeaters tend to be overweight, have a history of weight fluctuations, and are usually aware that their eating habits are abnormal. Our guest on this week's HealthyPlace Mental Health TV show is no exception.
Josie eventually recovered from overeating with the help of some well-known books on compulsive overeating and some information she found tucked away in a research study she came across. She'll be sharing her story Tuesday night.
Josie Lenore first began to use food for emotional soothing when she was around 9 or 10 years old and that's when she first noticed her weight start to creep up. By the time she was 17 and at college, Josie received a full-immersion crash course in disordered eating from the "bikini clad laxative popping" girls in her dorm. Her weight would go up and down by 30 or so pounds for the next several years. She tells HealthyPlace.com that she was determined to be thin and she tried everything, "literally everything." But each attempt missed the mark and added insult to injury.
About the HealthyPlace Mental Health TV Show
The HealthyPlace Mental Health TV Show airs live every Tuesday night at 5:30 pm PST, 7:30 pm CST, and 8:30 pm EST. Our guest will be taking your personal questions.
If you miss the live show, watch Overeating Videos: Binge Eating Help at your convenience.
Compulsive Overeating and How to Stop Overeating Help Pages
APA Reference
Amanda_HP (2009, November 30). Recovering From Compulsive Overeating with Josie Lenore, HealthyPlace. Retrieved on 2023, June 6 from https://www.healthyplace.com/blogs/tvshowblog/2009/11/recovering-from-compulsive-overeating-dec-1
Author: Amanda_HP