Spouses Day
According to Hallmark and several of those bizarre national holiday websites, January 26 is Spouses Day. This is a day meant to honor your significant other and show him or her how much you appreciate them. Some of you are probably thinking, "Isn't that what Valentine's Day is for?" Yes and no. While Valentine's Day might have started off with noble and honorable intentions, it has turned into an over-commercialized holiday where you get a pat on the back for buying your spouse a box of chocolates and a mushy card. Spouses Day is all about doing something (not necessarily spending money) to show your better half you care.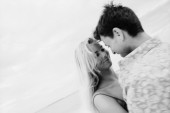 In an ideal world, everyday would be like Valentine's and Spouses Day where we would shower and receive love, affection and gifts. But when it comes down to it, most of us are either: a) too busy; b) too tired, c) too lazy, or d) too busy watching American Idol to make an effort everyday. So today is the day when we actually *groan* have to think of something thoughtful to do which requires some real effort.
Thoughtful Gestures
A while ago I wrote a post about Understanding the Five Love Languages which talks about how we each have a primary "language" in which we tend to communicate and appreciate love. Think about the things your commonly spouse asks for. If your partner often asks you to do the dishes and mow the lawn, her love language might be "Acts of Service" so focus on doing a household chore to make her day.
Gifts
If your partner likes receiving gifts, it doesn't mean you have to spend a fortune. Handmade gifts are often much appreciated.
If your partner has a sweet-tooth, bake a cake or cookies. Or cook a romantic candle-lit dinner.
There are plenty of homemade gifts you can make with a little bit of creativity and Googling: photo/scrapbook album, jewelry, knitted/crocheted items, custom coffee mug, etc.
Physical Touch
Touch is such an integral part of a romantic relationship, but is often taken for granted or neglected. While sex is definitely a big part of physical touch, there are other simple ways to express intimacy.
Break out the massage oils and scented candles and give your partner a good rub-down.
Cuddle on the couch and watch romantic movies.
Go for a long walk hand-in-hand.
Acts of Service
This is the time to finish that chore or project that you've been putting off. Once you finish a project, you won't have to hear your spouse bug you about it anymore.
Painting a room.
Fixing a leaky faucet.
Organizing a closet.
Words of Affirmation
This includes verbal compliments, encouragement and "I love you's."
If expressing compliments and kind words verbally is not easy for you, try writing a letter or card telling everything you've been meaning to say.
Compliment your partner in front of others. "I wouldn't know what I would do without Tina – she's the glue and backbone of our household."
Quality Time
Spending some real quality time together away from distractions is often challenging. For a few hours, put away the cell phones and spend some time re-connecting.
Plan a weekend getaway for just the two of you.
Spend the day picnicking in a park and enjoying nature.
Whatever you decide to do to honor your spouse, have fun doing it. Something mundane like washing the dishes can be a positive experience if you think of how it will make your partner happy. Happy Spouses Day!
APA Reference
Fung, T. (2011, January 26). Spouses Day, HealthyPlace. Retrieved on 2023, December 11 from https://www.healthyplace.com/blogs/theunlockedlife/2011/01/spouses-day
Author: Theresa Fung