The Comfort of Family Traditions
As families grow larger and loved ones move away, traditions help to bind family members together and strengthen ties. A ritual or family tradition can be the one constant among an ever-evolving group of related people. Creating new traditions as old ones become stale or have lost their relevance is also a good idea, especially for families with young kids, blended-marriage families, and multi-cultural families.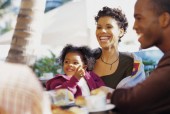 In my family, as is custom in many Chinese families, a huge twelve-course feast is held when a newborn baby is one month old. This is kind of like the baby's introduction to the world, or the world of the crazy family he or she is born into. These baby banquets bring together young and old, and family members that live in other cities often make the trek back home for the occasion. Besides introducing the baby, and visiting with relatives, it also is a good excuse to pig out!
I've been thinking a lot about starting some new traditions with my own multi-cultural family which consists of my toddler and soon-to-be-born baby. Here are a few family tradition ideas for young and older families alike.
For young families:
Sunday morning pancakes. Mixing batter, making a mess in the kitchen with mom or dad, and of course the smell and taste of warm pancakes, all are a recipe for great childhood memories.
Daily walks. Walking together as a family provides so many benefits: fresh air, exercise, the chance to appreciate nature, the opportunity to teach appreciation of the small things often gone unnoticed, and either having a good conversation or simply enjoying each other's company in silence.
Explore and experience cultural foods. Dedicate one day a week or a month to try out recipes and drinks from your culture. Make it special by using your plates and silverware typically reserved for company only.
Holiday baking. This is a good opportunity to pass along secret family recipes, or experiment with some new ones of your own.
Volunteer together. Instill a sense of appreciation in your kids by teaching them to help others who are less fortunate.
Take yearly family portraits. Instead of having stiff, formal portraits with forced smiles, try taking casual pictures that capture your "real" family spirit along with special mementos.
Commemorate special occasions such as graduation by planting a tree.
Annual family vacations. The memories of road trips along with all the annoyances and fun times that come along with it is something that most people look back on with fondness.
For families with grown children:
Monthly potlucks. There's nothing like food to bring family together.
Alternative gift exchanges during the holidays such as a Secret Santa. Even though the kids are grown up doesn't mean that the tradition of exchanging gifts should stop – just spice it up a bit and cut down your shopping list by trying a few different types of gift exchanges.
Monthly games night. Games such as poker, Monopoly, Scrabble, or Cranium are a fun and cheap way to spend some quality time together.
Annual family reunions. Even if your loved ones have moved away, a yearly family gathering is a good opportunity to reconnect.
Annual bake swap during the holidays. Try having a giant baking fest together, or just bring over previously baked goods to swap and share.
Whatever traditions you choose to keep or start, just make sure they are fun – the main point is to spend some time together as a family.
APA Reference
Fung, T. (2010, December 22). The Comfort of Family Traditions, HealthyPlace. Retrieved on 2023, December 8 from https://www.healthyplace.com/blogs/theunlockedlife/2010/12/the-comfort-of-family-traditions
Author: Theresa Fung