Finding LGBT Friendly Mental Health Care for the Uninsured
You can feel yourself slipping away. Again. You don't feel anything. You don't see the dirty laundry and dishes that have piled sky high. You don't hear the kids yelling, the dog barking or your wife talking. Life is on mute.
Or quite the opposite, you find yourself in such emotional chaos that you see, hear and feel everything simultaneously. You can't think straight. You don't care about anything or anyone anymore. Except you really do which is why you decide to seek support in addressing your mental health issues. However, finding LGBT friendly mental health care can be very challenging, particularly for the uninsured. I've been there.
"Two important factors that determine access to health care are insurance coverage and income. As a whole, LGBT people are more likely to be uninsured than their heterosexual, non-transgender counterparts. They are also more likely to be in poverty." -Lambda Legal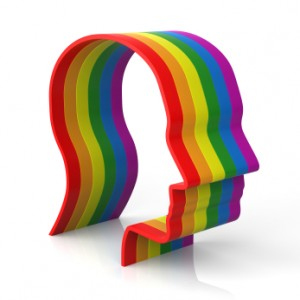 While searching for resources on mental health services for the uninsured, I was taken aback by a doctor's well meaning (but oversimplified) suggestion that "If you can take the time and energy to search, you have a good chance of finding someone who can help."
Time? Energy? Really?!!! When you're slipping away and doing simple daily tasks feels down right laborious, getting the help you need can take everything you have left...but it is possible.
Finding LGBT Friendly Mental Health Services for the Uninsured
While many attempts have been made to ensure that mental health care is available to those who need it, the disparities experienced by uninsured and/or low income LGBT individuals remain. But if anything is worth fighting for (and you will fight for it), it's your mental health. The quality of your life and your relationships depend on it. So don't let the hurdles keep you from getting the support you need.There are a number of free or reduced-fee resources (hidden gems) available in nearly every community. Here are 3 great placed to start your search:
Dial 211, an easy to remember telephone number that, where available, connects people all over the US with important community services including mental health care referals. In 2012, 211 services provided by United Way answered more than 15.8 million calls. Crisis lines (including suicide prevention) are also available 24 hours a day, 7 days a week. However, they are most helpful in mitigating an immediate crisis as opposed to getting your assistance with ongoing care.
See your school counselor. If you are a student or the parent of a student and you need mental health support for you or your child, the school's counselors may be able to help. If your problem needs more specialized help, they can refer you to other resources in your community. Colleges and Universities have student wellness clinics with many services offered at no cost to students.
Find an LGBT friendly advocacy or outreach group. Many of their programs include affordable mental health support groups for a variety of issues (Depression, Anxiety, PTSD, Grief, Marriage and Family, Domestic Violence, Substance Abuse, etc.) free of charge.
Don't let being uninsured stop you from getting the support you need. Yes, I know you're slipping away. I know that looking for the help you need might take everything you have left and at your worst it can feel like you have nothing left. But if you can manage to muster up any strength at all, it's well worth the effort.
APA Reference
tneely (2013, October 21). Finding LGBT Friendly Mental Health Care for the Uninsured, HealthyPlace. Retrieved on 2023, November 28 from https://www.healthyplace.com/blogs/thelifelgbt/2013/10/finding-lgbt-friendly-mental-health-care-for-the-uninsured
Author: tneely
Hey, do you guys know any free trans services in the Milton, Florida area? Thanks, Jade
I was diagnosed with depression about 30yrs ago and have been on many different antidepressants,MRT,and ECT with not any good results but have been functioning in a fashion. I am now on suboxone and Effexor and doing poorly. My doctor wants me to go off everything and start over but I need help and can not find any since I am on medicare
Leave a reply