About Tanisha Neely, Author of "The Life" LGBT Blog
I am Tanisha Neely; a mid 30's Literary Artist, Social Media Junkie, Storyteller, World Traveler, Science Nerd, Mother, Lover, Fighter, Yogini and Crochet Artist.
Most of the time, I do a respectable job at passing for normal.I maintain a reasonably healthy relationship with my wife/life-partner of over 7 years and parent 4 quirky tweens and teens. I've studied Arts and Humanities alongside Histology at the IU School of Medicine; rapidly working my way up, down and around a corporate ladder in pharmaceuticals; while sidelining as a freelance writer. I'm a church bench-warmer. I go to PTA meetings, Jr. High band concerts, gymnastics recitals and waaaaay too many soccer games. And did I mention that I am a Zumba Legend! (says my Wii).
Experiencing Mental Illness as an LGBT Person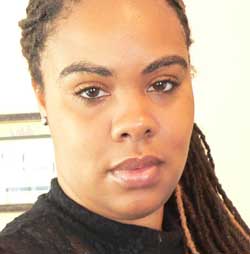 Few people know that I live with mental illness (Anxiety Disorder, Panic Disorder, PTSD and Bipolar Disorder previously described as Manic-Depressive). But that is changing as I begin a new process of "coming out", this time as someone living with mental illness; which carries a social stigma that feels very familiar. Despite many challenges, I've become better at managing my mental health through a combination of natural and pharmaceutical medicine, yoga, meditation and other mindfulness practices.
Growing up in a working poor family in Southeast San Diego meant no access to good medical treatment for my condition until my late 20's. After an acute mental breakdown in my early 30's due to a traumatic car accident and dealing with too many life stressors, I was officially diagnosed and partially hospitalized for treatment.
However, being lesbian meant that when I finally did find myself in treatment, I was socially isolated and often the orange elephant in the room who needed "extra special treatment" either because it was believed that being a same gender loving person was a disorder in and of itself, or because many support groups and some therapists could only address mental health issues as experienced by heterosexuals. In short, I always seemed to find myself falling through the cracks of my various social and cultural identities.
The Life is an LGBT mental health and relationships blog; a non-judgmental place to discuss mental health and relationships in general and as it relates to LGBT people in particular; a place to share ideas and personal experiences on living with mental illness while queer; a place of help and hope for those who might be falling through similar cracks while trying to manage their own mental health.
The Life: LGBT Mental Health and Relationships Blog Welcome Video
You can also connect with Tanisha Neely on Twitter, Facebook and Google+ and Linkedin
APA Reference
tneely (2012, December 19). About Tanisha Neely, Author of "The Life" LGBT Blog, HealthyPlace. Retrieved on 2023, December 6 from https://www.healthyplace.com/blogs/thelifelgbt/2012/12/about-tanisha-neely
Author: tneely
You are so inspiring, I thought about deleting blog a moment ago, but I won't after I heard you. Thanks for the support.
You are so inspiring, I thought about deleting blog a moment ago, but I won't after I heard you. Thanks for the support.
I can't wait to read your blog. As a lesbian with OCD, panic disorder, and severe recurrent depression I know how hard treatment can be when you throw in LGBT issues. Thanks for providing this glimpse into how you deal with it.
Welcome Christina. I am excited to be here and I hope "The Life" offers you something of value. I look forward to community feedback so feel free to talk back as much as you like :-)
Very inspiring, thank you for sharing.
Hello Tanisha! I'm a fellow blogger here on HealthyPlace.com. I look forward to your insights, particularly concerning PTSD, anxiety disorder and depression. Many victims and survivors of domestic violence suffer those mental challenges too.
Welcome to the team!
Tanisha, I am so glad to see the perspective of a lesser-recognized segment of the population with mental illness. As a young, straight, middle-class white woman, there is much that I don't understand about how others suffer and deal with their mental illnesses, even if we share the same diagnoses. I'm looking forward to reading your thoughts!
Leave a reply