Putting a Stop to Verbal and Emotional Abuse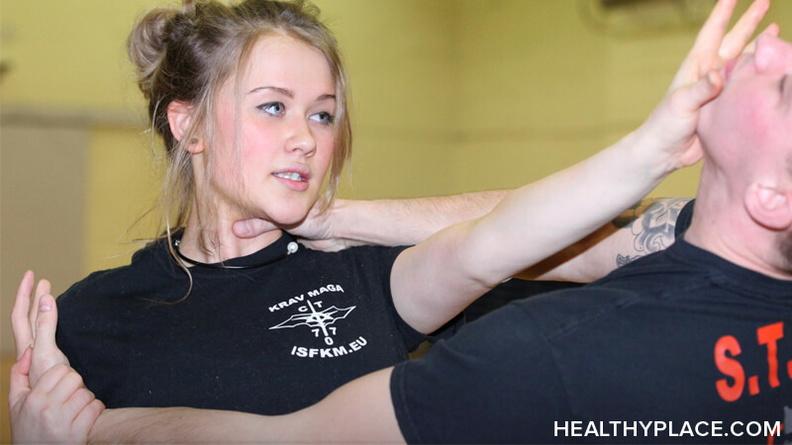 As we heard from our guest Kellie Holly last week, verbal and emotional abuse is insidious and destructive. Once you recognize you're in an abusive relationship, what do you do about it? Shelly and Dr. Michael Marshall say putting a stop to verbal and emotional abuse is up to you.
Shelly and Dr. Marshall are co-authors of the book Respect-Me Rules and our guests on this week's edition of the HealthyPlace Mental Health Radio Show. They joined us for a frank discussion on verbal and emotional abuse, and what you can do about your abusive relationship.
Listen to "How to Stop Verbal and Emotional Abuse"
For more information about verbal and emotional abuse, physical abuse, and sexual abuse, visit the HealthyPlace Abuse Issues Community.
Share Your Verbal and Emotional Abuse Experiences
Are you in an abusive relationship? Were you able to stop the abuse? Share your comments below.
APA Reference
Gray, H. (2011, January 23). Putting a Stop to Verbal and Emotional Abuse, HealthyPlace. Retrieved on 2023, December 1 from https://www.healthyplace.com/blogs/radioshowblog/2011/01/putting-a-stop-to-verbal-and-emotional-abuse
Author: Holly Gray
Hi, I was married for 17 years and had a son before our marriage and 4 more sons. I started being a stay at home mother when the third child came along in 1997. My husband worked nights, which was good because I had the most energy at night. Well, we built our dream house and this was the downfall of our marriage and the beginning of his abuse, my injury, and the start of my depression (only I didn't know I was).
My husband did not talk to me for 3 months after we moved in because our house went $20,000 over budget and I was the one who made all the decisions on the house, so I got the silent treatment as punishment because he knew I needed to be able to talk to him and I am the type who needs affection! I hurt my back moving furniture and I had also been going to different doctors for a few years w symptoms no one could explain. We moved in our house in 2006 and I was diagnosed with fibromyalgia!!!!
I was the caregiver for our boys and the house, cooking, washing, grocery shopping, baseball practices and games, etc. Well, the less I could do, the more he would resent me! Little did we know at the time, I was diagnosed w bipolar major depression. What made me feel better was to go shopping and he didn't like me spending money so he took my name off our business and personal accounts! I was horrified because we live in a small town and I was to ashamed to be seen in public! He took away my right to buy groceries or cook and only gave me cereal and milk to eat! Not to mention the local pharmacists called DHR and told them I was a danger to my children because of the medicines I took. I could not be left alone with my children all weekend and we had to be at DHR first thing Monday with witnesses that I wasn't a danger. My drug test was negative for any medications and they dropped the case that day!
I bet you can guess what came next. He asked for a divorce because I wasn't the kind of woman he wanted to be married to because I had gotten so so sick! So depressed and I hurt so bad! I couldd no longer care for everyone like I had before. We had a housekeeper and his father who lives next door cooked them supper, never bringing me a plate! but my husband moved to his dad's house, which is next door.
Well you know I was getting no money. I got a speeding ticket and gave it to him and thought it was paid! Well, I got temp custody of the house and boys until we went to court. He took it as a restraining order and I made the mistake of walking to his daddy's to speak to one of my sons. As soon as my husband saw me, he said you are trespassing. I'm calling 911! I didn't say a word and walked back to my house. 2 cop cars pull up. I'm not n trouble for going over to talk to my son, my husband didn't pay the ticket, so I had a failure to appear in court....so they arrested me and took me to jail!
Talk about anxiety, panic, horror, claustrophobia. Since it was a small town and after 5pm, there was no one there to take my bail money! So, Ms PTO President who didn't do anything wrong to get in trouble in her life ..ME... had to wait til 5am to get out. My parents drove 3 hours and had to pay $500 to get me out! My mother said I didn't know where I was for 3 days and just talked words that made no sense!
WELL, now in this small town, the rumor was I went crazy, was a drug addict, didn't take care of her kids and she's horrible ,worthless cuz she left those boys! THE TRUTH WAS I HAD BEEN MENTALLY & VERBALLY ABUSED FOR YEARS BECAUSE HE THOUGHT I HAD AN OPTION TO BE N PAIN & HE, HIS FATHER, THE PREACHER THAT MARRIED US, & A VERY TRUSTED FRIEND ALL SAID MAKE SURE. U GET A DIVORCE AND IF SHE LOVED THE BOYS, SHE'D CHANGE!!!!MY NEUROLOGIST TOLD ME IF I DID NOT GET MY THINGS & GET OUT OF THE SITUATION, I WUD EITHER DIE OF A HEART ATTACK OR A STROKE WITH IN 2 MONTHS IF I STAYED IN THAT SITUATION.....
MY BODY WAS SHUTTING DOWN! I MADE THE HARDEST DECISION EVER TO LEAVE MY BOYS......THANK GOD, THAT HE DIDNT ABUSE THEM, SO I KNEW THEY WUD BE OK!!! I CUDNT STAY N OUR HOUSE AND MOVE ON W MY LIFE CYZ MY HUSBAND HAD TI STAY WITH THE FARM.....I FELT ABANDONED, ITS BEEN 2 YEARS & I AM BARELY GETTING BY....DEPRESSION IS BAD!!.......I wish Icould leave you w a happy ending but the only thing I can think positive to say is, everything happens for a reason! THE PROBLEM IS AWARENESS ABOUT MENTAL DISORDERS AND CHRONIC PAIN, FIBROMYALGIA, ARTHRITIS, DEGENERATIVE ARTHRITIS DEGENERATIVE DISC DISEASE, RADICULOPATHY, & SCOLIOSIS!! Because I AM NOT CRAZY OR A DRUGGIE.......JUST BECAUSE YOU DON'T UNDERSTAND SOMEONES CONDITION, NEVER JUDGE, BECAUSE YOU HAVE NO IDEA WHAT IS GOING ON INSIDE THAT PERSONS BODY!!!! AND DONT ASSUME THAT MY PERFECT HUSBAND IS THE SAME BEHIND CLOSED DOORS!!!!
Dear friends,
actually when i was in 7th class unfortunately i encroached by O.C D,write now i am 28th but steel i am not completely OK, some times i get heavy frustration, and i always feel very dully life is going on, and hardly get enthusiasm about any things, i don't get enjoyment to do nay things , i take uvox medicine two times every day, when ever i don't take this my condition becomes more worst, please tell me what should i do ?
Leave a reply