Summer Reading Hot List, For When You're Not All There
Summer vacation season is fast upon us and with it visions of lazy afternoons stretched out on an oversized beach towel, savoring a hypnotic symphony of wave upon wave smashing sand in accordance with an ancient, cosmic groove, and diving headfirst into a pleasantly refreshing book.
As luck would have it, I am pleased to introduce the First Annual Funny in The Head Recommended Summer Reading List, designed exclusively for people who, when they're all not here, are not all there.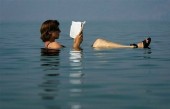 With so many exciting new titles, it was hard to select a final five, but here they are.
50 Shades of Blue
This startling novel has been called "a combination of Fight Club and The Great Gatsby". It tells the story of Anastasia Aluminum and Mormon Grey, two masochists on a deadly quest to discover the most agonizing healthcare reimbursement experience available. Denied claims, pre-existing conditions, and Human Resource department reorganizations are just the beginning as these gluttons for punishment race to discover for themselves just how cruel and unusual the health insurance machinery can be when you give it half a chance. For adult readers only!
Harry Pothead
Is there a substance abuser in your family? If so, you'll love the tale of Harry Pothead, a regular Puff The Magic Dragon of warped and wacky whimsy. Harry, who lives in the crawl space beneath a flight of stairs in the home of abusive stepparents, flees his pain and emptiness through immersion in solitary drug abuse. Harry's chemically induced hallucinations form the body of this tale and rival those of William Burroughs when it comes to bizarre improbability and disturbing undertones.
Eat, Pray, Love, Medicate
Lizzy Gimlet has a problem, PDD (Personality Deficit Disorder). Did you know that 1% of Americans are born without a personality? It's true, and now Lizzy is on a mission to beg, borrow or steal a workable identity. But it's going to take some frequent flyer miles! First it's off to Italy for a sense of style! Then India, where she will learn the spiritual path. But when Lizzy mistakes meditate for medicate, hijinx ensue, and by the time she gets to Indonesia, look out! It's family friendly fun for one and all.
Zombie Apocalypse On Ice
A surprisingly insightful chronicle of reality TV, from the Loud family on PBS to the Real Housewives of Scranton.
Zombie Apocalypse On Gravel
A surprisingly insightful chronicle of rap music, from Tupac to 12-Pac.
Happy reading!
APA Reference
McHarg, A. (2013, June 5). Summer Reading Hot List, For When You're Not All There, HealthyPlace. Retrieved on 2023, December 10 from https://www.healthyplace.com/blogs/funnyinthehead/2013/06/summer-reading-hot-list-for-when-youre-not-all-there
Author: Alistair McHarg
Eat Pray Love and Medicate. The book for me.
You write fine reviews, insightful and appropriately disturbing.
Thank you, Hannah. I was born to disturb.
I have to check these out! However, these will have to wait until I've finished:
On The Load- Jack Carwreck takes a cross-country bar-hop with Professor Moriarty and his blonde barfly bombshell while staying one step ahead of US Marshall Dwight Deeyoueye. Will he be caught and breathalyzed? It's a real cliff-hanger so far...I'll let you know as further developments unfold.
Hi Alistair :) I am decidedly not all there! Loved 50 Shades of Blue-navigating through disability/sickness insurance is the stuff of nightmares. It's described my own adventures well and I am definitely turning blue. I have some books to recommend.
The Scarlet Pumpernickel-A wife goes looking for her Dissociatively Disordered Husband in Germany and discovers he's been secretly writing parts of the new DSM 5 while eating newly baked Pumpernickel in a quaint tavern in Cologne while wearing cologne.
The Good, the Bad, and the Crazy-The adventures of Harley Motorbike. He spends time tooling around his apartment parking lot, looking for the meaning of life along with his invisible friend Harvey. He soon finds a group of bikers who enlighten him about the ways of the mysterious highway he keeps seeing in his hallucinations.
The Iceman Leavens-One Beastly Yeastly discovers the secret of the microbial commune living in his pantry and their obsessive compulsive need for increasing the size of loads of dough. Soon the dough increases in such size that it takes on a life of its own, soon devouring everything in its path. It's up to Beastly to lure the dough into an industrial bakery and stop its wanton destruction.
Looking forward to lots of good reads this summer!
You are hitting them out of the park, Cindy; these are better than mine. All the best to you and yours.
Leave a reply