Insanity Unaffordable For Many According To New Study
According to a study released recently by the American Association of Associated Americans (AAAA), insanity may soon be out of reach for all but the super-rich, if current trends continue.
Chumley Throckmorton, PR Liaison for AAAA, explained the findings at a recent press event. "America was founded on democratic values," he began, "our constitution guarantees specific freedoms like speech, religion, and the pursuit of happiness. Happiness means different things to different people but one thing is certain, for many of us it means embracing our inner whackadoomian and smiling shamelessly as the cheese drifts slowly off the cracker.
"If one quality has helped to shape this nation more than any other it is the enthusiastic celebration of personal insanity," he smiled. "Madness was no mere colorful side road of the American experience, oh no, looneytude carved Main Street out of a hostile wilderness, tied the sky with wire, clogged the air with carbon monoxide and made the racing rivers glisten with mercury. Toxic levels of greed, ambition, and aggression drove a long parade of pathologically disturbed explorers, industrialists, bankers, bookies, assassins and interior decorators to ravage a utopia of incalculable natural wealth and beauty.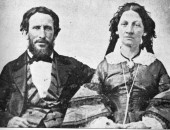 "That didn't just happen," Throckmorton continued, hammering the podium as the word "happen" arrived, "it took vision, the vision of men and women not afraid to make their demented dreams a reality. But today," he looked down, removed his glasses, cleaned them on his assistant's tie, put them back on his face, and proceeded, "all that is in jeopardy.
"The ever-widening gulf between them what got and them what got not is having a chilling effect on insanity which, in the vast majority of cases, has simply become unaffordable. The result is that our once marvelously wild and obstreperous nation of misfits, malcontents, rabble-rousers, gangsters, and entrepreneurs is becoming whitebread, drab, listless, and dull. If this continues at its current pace it won't be long before we're indistinguishable from Belgium…or even Switzerland.
"Nationwide, those who do choose to experiment with insanity today are opting out of the glamor, high-maintenance diseases with force enough to bend rivers and level mountains for disorders that are more annoying than truly pathological. Complaints like triskaidekaphobia, arachnophobia, and phobophobia may qualify as maladies of the mind, but we are kidding ourselves if we think we can build the nation's future on a foundation of triviality."
Throckmorton summed up thusly. "If America hopes to be the nation it was once and frequently claims to be now it must first find a way to make insanity universally affordable. The painful irony here is that now it is only the rich that can afford insanity and, typically, they have absolutely no idea what to do with it."
APA Reference
McHarg, A. (2013, April 9). Insanity Unaffordable For Many According To New Study, HealthyPlace. Retrieved on 2023, October 1 from https://www.healthyplace.com/blogs/funnyinthehead/2013/04/insanity-unaffordable-for-many-according-to-new-study
Author: Alistair McHarg
Hi Alistair :) I've had many a time where I've had to chase the cheese and put it back on my cracker, much to the dismay of the cracker! Enjoy the week!
or quacker, as the case may be!
Leave a reply