Stray Dogs, Orphans, and Thanksgiving
For many of us who every morning strap on the old miner's helmet and begin yet again the long descent into territories ruled by unseen dictators; who boldly confront the limitations and restrictions thrust down upon us like leaden capes by inexplicable, cruel fates; who summon the courage to confront yet another day replete with overwhelming obstacles and dark mysteries, who – Columbus-like – sail into an unknown sea teeming with tiny monsters both real and imagined – indeed, for all of us and others as well, Thanksgiving is a very special occasion indeed; or, more properly put, Thanksgiving is like a corpulent nightmare of wretched excess, unrealistic expectations, and unfair demands, served up dressed in bitter herbs on a harrowing stroll down memory lane where one is reminded of experiences one spends the rest of the year trying to forget.
Or not.
But these weepy reminders of what is so frequently the case overlook a social quagmire even more desolate than having to face one's family on Thanksgiving, that is, having nowhere to go on Thanksgiving.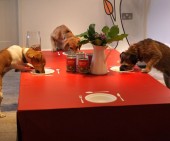 Cue the imaginary flashback music please. Through the magic of manic depression (bipolar disorder) I experienced what might be called the human equivalent of a blitzkrieg. My bourgeois suburban life – job, house, wife, child, car, dog, cat and more was transformed almost overnight to desolation, poverty, stark raving madness living in a car. The nice job, house, wife, child, dog and cat seemed like a distant memory – I lived entirely in the moment - a blind man strapped to a rocket. Thanksgiving loomed like a giant accusation, an indictment shining light on my absolute failure as a human being. It snarled. I snarled back. With no extended family anywhere in the country I cast my demented gaze across the smoldering landscape for options – I would solve the Thanksgiving conundrum dagnabbit!
I thought, at last, of Felicity Dunbar, a demented childhood friend who had grown into a demented adult. On an hunch I called and she replied, "Alistair, you must join us! My aunt Gwendolyn has a Stray Dogs & Orphans dinner every Thanksgiving, for people with nowhere to go." I had never heard of such a thing and wondered about the wisdom of inviting such people into one's home but, at the time being one of such people myself found nothing but praise for the idea and accepted immediately.
I will never forget that Thanksgiving, dear reader, I was so fabulously lost, like a fishing boat in a hurricane, wondering day to day if I could hang on at all. Aunt Gwendolyn was an architect and the home was a masterfully restored stone manor affair from the late 19th century, brought painlessly into the 21st century with so much flair and pizzazz. Large open expanses of blonde wood, vaulted ceilings, and the endless tasteful details of art, design and unexpected grace notes. The meal was simply crazy delicious, although, being manic I was as likely to eat the napkin as the stuffing. But the food was not the point; the moment was.
Gwendolyn's only demand of her guests was that, one by one, each stood and shared one thing for which they were grateful. It was chilling. In the illumination of one detail an entire life of struggle was set in relief. We were all refugees of one sort or another, each tale, of loss, fear, distance, longing, echoed the one before like phrases of a song repeated by different instruments. My circumstance, while dire, was certainly not the most extreme at that table.
In weeks and weeks of being full-blown manic I felt for the first time not alone, not unique. I was sharing the electricity of being at that moment with strangers who were suddenly closer to me than best friends and I thought; yes, this is Thanksgiving.
APA Reference
McHarg, A. (2012, November 20). Stray Dogs, Orphans, and Thanksgiving, HealthyPlace. Retrieved on 2023, September 26 from https://www.healthyplace.com/blogs/funnyinthehead/2012/11/stray-dogs-orphans-and-thanksgiving
Author: Alistair McHarg
Simply wanna remark on few general things, The website style and design is perfect, the content is really great : D.
Hi Alistair, what a wonderful story. It's always important to reflect on gratitude, even if it is only little things we are thankful for at the time. I hope you had a wonderful Thanksgiving.
I agree. Acceptance and gratitude pave the way for happiness. -- I did have a very nice Thanksgiving and I hope you and yours did as well. (Among many other things, I am grateful for terrific readers!)
I love this. Thanks for sharing. Each year, a man who originally came from another country (can't remember which country now, sorry) and had very little, hosts a free dinner for anyone in the area who is alone on Thanksgiving, to say thank you for helping him as a young immigrant. What a great success story, and story of giving back. Happy Thanksgiving to you.
Thanks for writing, Amy. I love stories like yours, there is nothing like giving back. - I used to go to a Gratitude AA Meeting in Pennsylvania every Thanksgiving, about 250 people - deeply moving and spiritual. It's a wonderful holiday.
Leave a reply