Anxiety Effecting Everyday Lives During Recession
I saw an article on CNN today about how Walmart's sales at U.S. stores fell 1.4% from the same period last year. When customers are living paycheck to paycheck more than ever before, the sales aren't there because "customers can't afford the gas to get to the stores and that they're increasingly using food stamps when they get there." It's no secret we are living in difficult times. It's a no brainer that anxiety levels in the country must be rising. It made me wonder how much.
Impact of Economic Recession on Mental Health
An article published in the New York Times in April of 2009 listed some interesting statistics:
"It is early to measure the recession's consequences, but surveys suggest a growing impact. In an American Psychological Association poll in September, 80 percent reported the economy is causing significant stress, up from 66 percent last April. The National Sleep Foundation said 27 percent of people surveyed last fall had sleeplessness because of economic anxiety.
National Suicide Prevention Lifeline calls jumped to 50,158 in January 2009 from 39,465 a month in January 2008, and economic stress more frequently "played a central role," said Richard McKeon, the group's federal project officer." (Read: Depression From Job Loss is Long-Lasting)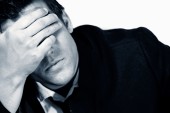 It talks about how people who haven't lost their job, home, or income are still having panic attacks because they worry about what will happen if they do, or just the uncertainty they feel. People are requesting medication but bypassing therapy for fear of what their employers would think if they had to miss work.
One woman said,
"I felt like a neurotic middle-class, middle-aged woman too weak to deal with life on my own," she said. "I should be stronger, it was simply money, and why do I have to take pills to not worry about money."
But treatment and further organizing family finances helped. She said the weakening economy made her "fear that even if you do everything right, something bad can happen to you."
When I start to worry about the future of my family and the country, I try to remember some spiritual guidance. Fear is the opposite of faith. And men are that they might have joy. I try to remember this quote by Boyd K. Packer, "We need not live in fear of the future. We have every reason to rejoice and little reason to fear. If we follow the promptings of the Spirit, we will be safe, whatever the future holds. We will be shown what to do." I am also trying to be smarter and more self sufficient. I try to be more frugal with our money, even saving some away when we can. I have started a garden, continually working on building up food storage and emergency 72 hour kits.
How has the economy affected you and your anxiety?
APA Reference
White, A. (2010, May 21). Anxiety Effecting Everyday Lives During Recession, HealthyPlace. Retrieved on 2023, December 5 from https://www.healthyplace.com/blogs/anxiety-panic/2010/05/anxiety-effecting-every-day-lives-during-recession
Author: Aimee White
Thanks, encouraging words in a challenging time.
Leave a reply