Ginseng for Depression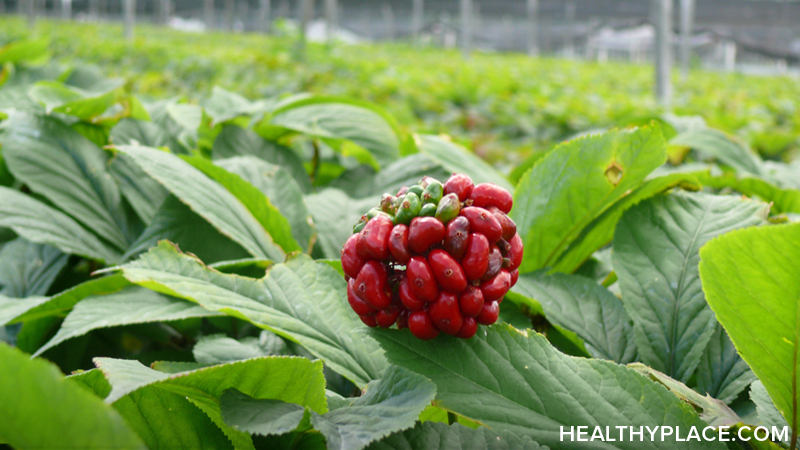 Overview of ginseng as a natural remedy for depression and whether ginseng works in treating depression.
What is Ginseng for Depression?
The roots of the ginseng plant are used as a medicine, particularly in Oriental countries. There are three types of ginseng plant: Chinese ginseng (Latin name: Panax ginseng), American ginseng (Panax quinquefolius) and Siberian ginseng (Eleutherococcus senticosus). Chinese and American ginseng are closely related plant species, while Siberian ginseng is a more distantly related plant. All are thought to have similar medicinal effects.
How does Ginseng for Depression work?
Ginseng is used to improve energy levels. It is also used to help the body cope with stress through its effect on the adrenal gland.
Is Ginseng for Depression effective?
There is no scientific evidence on whether ginseng works for depression.
Are there any disadvantages?
Like all herbs, ginseng can cause side effects in some people, although these are generally minor.
However, ginseng may interfere with your prescription medication. If you regularly take prescription medication, check with your GP or pharmacist before taking herbal supplements.
Where do you get Ginseng?
Capsules of powdered ginseng root are available from health food shops and most supermarkets. Ginseng is also available as a tea.
---
---
Recommendation
Given the lack of scientific evidence, ginseng cannot currently be recommended for depression.
APA Reference
Staff, H. (2008, October 29). Ginseng for Depression, HealthyPlace. Retrieved on 2023, December 3 from https://www.healthyplace.com/alternative-mental-health/depression-alternative/ginseng-for-depression
Last Updated: July 11, 2016