My Two Cents on Individualized Education Plans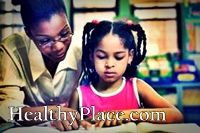 If your child with ADHD has learning difficulties, here are some inside tips about Individualized Education Plans (IEP).
IEPs (Individualized Education Plans) can be intimidating, especially if there is tension or conflict between you and the school. Here are some of the things I've learned along the way that I hope might help you.
I always ask for a copy of all the test results prior to the meeting date. This gives me a chance to read over what they found and, if needed, get input from my child's pediatrician or therapist. It also allows me to absorb what I've learned before I sit down and ask for services for my son.
Feel free to take a support person with you. Not only can they help calm you and keep you focused on the task at hand, but they make excellent witnesses if you should ever need one. A support person can be anyone-- family member, friend or even your child's counselor or therapist. Counselors and therapists come in handy when there are some issues concerning services. They can be more persuasive given their education and medical training when it comes to accessing services the school is reluctant to give.
You do not have to sign any papers at the IEP meeting. You are not obligated to sign any papers at the IEP meeting. You may want to take the papers home, review them with your child's therapist or doctor or even get input and feedback from a relative. You might just want to think about and absorb everything that transpired at the meeting. Don't feel pressured into signing an IEP, especially if you do not agree with it.
Remember... School personnel cannot start services, change services or stop services unless you sign an IEP stating so. If the school is asking that you make changes that you do not agree with, do not sign the IEP papers.
One thing that worked really well for me was taking my manual of Special Education Rights and Responsibilities with me to the IEP. I made sure it was in plain view but did not flash it around. The principal asked me about the book and I explained what it was. I was treated differently once they knew that I was aware of my rights. Once they realized that I was a fully informed parent and that I was aware of what they could do and what they couldn't, I seemed to have a much easier time getting the things I asked for.
---
---
next: My 2 Cents on Alternative Treatments for ADHD
~ adhd library articles
~ all add/adhd articles

APA Reference
Staff, H. (2000, January 4). My Two Cents on Individualized Education Plans, HealthyPlace. Retrieved on 2023, December 6 from https://www.healthyplace.com/adhd/articles/tips-on-individualized-education-plans
Last Updated: February 13, 2016