Can 'Hare Krishna' Chant Cure Addiction to Drugs?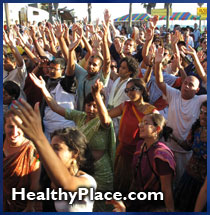 The global Hare Krishna sect has floated a new wing to counsel students who are depressed, demoralized and even addicted to drugs.
The International Society for Krishna Consciousness (ISKCON) sect, headquartered in West Bengal's Mayapur town, says distressed students are getting back their zest for life by chanting "Hare Krishna" and listening to regular religious discourses.
The sect's counseling centre, called the Youth Forum, is run at its premises in the city. "We started the forum a couple of months ago and the response has been tremendous," said ISKCON official Ananga Mohan Das.
The forum is now visited by about 176 students "and the number is growing by the day".
At these sessions, held every Sunday, students listen to discourses by ISKCON monks, chant hymns, meditate and discuss their problems with the monks.
"The students come from the best of colleges and universities and also from very reputed families," Das said.
Besides its endeavor with students, ISKCON is planning programmes for reformation in the state's jails.
The sect wants to conduct regular religious sessions in jails in the hope that it would awaken spirituality in convicts and make them better human beings.
The proposal, already submitted to the state government, is that ISKCON volunteers would introduce convicts to meditation and religious discourses.
ISKCON monks want to distribute Hindu religious texts such as the Bhagwad Gita and hold its readings regularly. They also want convicts to chant "Hare Krishna".
ISKCON philosophy says a convict is not to be blamed for his crime, but it is society that is responsible because it could not impart the right lessons to the sinner.
For the most comprehensive information about Depression, visit our Depression Community Center here, at HealthyPlace.com.
next: Bipolar Disorder and Alcoholism
~ addictions library articles
~ all addictions articles
APA Reference
Gluck, S. (2007, August 6). Can 'Hare Krishna' Chant Cure Addiction to Drugs?, HealthyPlace. Retrieved on 2023, December 11 from https://www.healthyplace.com/addictions/articles/can-hare-krishna-chant-cure-addiction-to-drugs
Last Updated: April 26, 2019