Mandatory Reporting of Child Physical Abuse
There are personal, professional, and legal reasons why professionals and caring citizens should become involved in preventing and reporting child abuse and neglect.
When Should Child Physical Abuse Be Reported?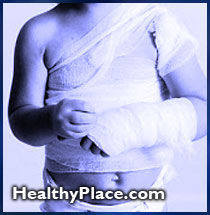 All fifty states currently have mandatory child abuse reporting laws in order to qualify for funding under the Child Abuse Prevention and Treatment Act (CAPTA, 1996; U.S. Department of Health and Human Services, 2001). Although all states have some type of child abuse reporting law, each state differs in their application of mandatory reporting laws. (see How to Report Child Abuse)
Mandatory reporting refers to a legal obligation to report suspected or known child physical abuse or child maltreatment. Many people do not know that failure to report carries a legal penalty. Mandatory reporting legislation overrides any professional code of conduct or ethical guidelines. For example, although psychologists must maintain client confidentiality, they may break this confidentiality if a client reports that a child is being abused. Medical practitioners, psychologists, police officers, social workers, welfare workers, teachers, principals, and in many states film developers are all mandatory reporters. Several states have broadened the list of mandatory reporters to any person suspecting abuse.
Although mandatory reporting laws vary from state to state, there are some general guidelines to follow when determining whether to report abuse. The most obvious would be when a child reveals that he or she has been abused. However, often it will be a sibling, relative, friend or acquaintance that reveals the abuse. In some cases, a child may reveal that he or she knows someone who being abused. In such a case, there is a legal responsibility to report the abuse to the proper authorities, either the police or Child Protective Services.
As noted earlier, there are many signs of child physical abuse. Based on observations of a child, if abuse is suspected, it must be reported. It is important to note that proof of abuse is not required to make a report. The requirement is whether there is knowledge or suspicion of abuse. If there is suspicion or knowledge, the name of the suspected abuser and child should be reported to Child Protective Services or the police. Most states have toll-free child abuse reporting hotlines where anonymous reports can be made. There is also a national child abuse hotline provided by Childhelp. Contact The Childhelp National Child Abuse Hotline at 1.800.4.A.CHILD (1.800.422.4453).
The National Incidence Study of Child Abuse and Neglect reports that there has been a forty-one percent increase in the number of reports made nationwide since 1988 (U.S. Department of Health and Human Services, 2001). However, reporting abuse does not necessarily mean that all abused and neglected children are being identified. Some research has indicated that many professionals fail to report most of the maltreated children they encounter. Hence, underreporting continues to be a major problem in the war against child abuse.
Sources:
Administration for Children and Families
National Clearinghouse on Child Abuse and Neglect Information
National Institutes of Health, National Library of Medicine
U.S. Department of Health and Human Services, National Center on Child Abuse and Neglect
---
---
next:   Effects of Child Physical Abuse
~ all articles on child physical abuse
~ all articles on abuse
APA Reference
Gluck, S. (2008, November 19). Mandatory Reporting of Child Physical Abuse, HealthyPlace. Retrieved on 2023, December 9 from https://www.healthyplace.com/abuse/child-physical-abuse/mandatory-reporting-of-child-abuse
Last Updated: September 25, 2015