Are Support Groups for Depression Really Helpful?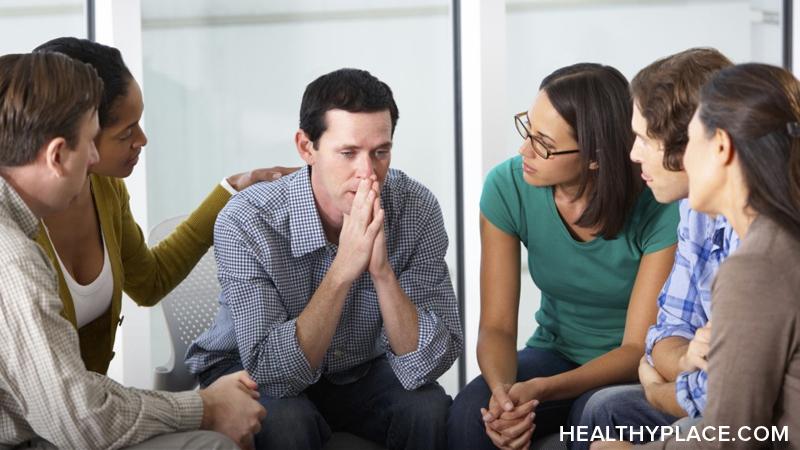 Support groups for depression, when done correctly, can be extremely helpful for people experiencing depression. By their very nature, depression support groups provide something essential for recovery: a social connection.
Depression causes isolation, loneliness, and despair, each feeding off the others in a downward spiral. Withdrawal from people and situations coupled with decreasing levels of activity keep people with depression away from positive experiences. Because they reestablish social connections and help people learn and use coping skills, support groups for depression are often quite helpful indeed.
Why are Support Groups for Depression Helpful?
Depression help groups bring people together, thus providing much-needed social connection. People gather to exchange stories, give and receive understanding, gain insights, and learn new coping skills for battling depression. These shared experiences create a sense of cohesiveness and belonging that are essential in overcoming depression.
Because most depression self-help groups meet on a regular schedule, they provide stability and routine and often become a commitment that people like to live up to. Because having a routine is good for depression recovery, a support group for depression is helpful in this way, too.
In The Depression Workbook: A Guide for Living with Depression & Manic Depression (2001), Copeland discusses the advantages of depression support groups. Through group discussion and shared experiences and sometimes educational programs and speakers, support groups for depression:
Provide information and education
Allow people a safe place to talk and listen
Instill hope
Let people know that they're not alone
Teach new coping skills and depression-beating tips
Help people learn to control depression symptoms
Inform people of local resources and services
Depression help groups bring people together for positive connections and growth. Not only do participants have a chance to share their own experiences and gain insights and new skills, but they also have a chance to reciprocate. Being able to both receive and give empathy, understanding, and insights creates meaningful social interaction and is another way people benefit from self-help groups for depression.
Depression Support Groups are Helpful When They're Good
Not all support groups for depression are created equally. Poor-quality support groups at best don't help people move forward, and at worst can do harm by keeping members stuck in their depression. Here's how to spot a bad support group:
The meetings are spent dwelling on problems
A few people dominate the discussion, and the rest of the members hardly have a chance to speak up
The leader gives orders and tries to run the group the way he/she wants to with little regard for the needs of the group as a whole
The atmosphere of the group is neither supportive nor progress-focused
Any of the above features can be a warning sign that the group is potentially toxic. In contrast, high-quality support groups for depression:
Treat all participants as equals and important members of the group
Remain focused on finding solutions
Have a non-judgmental, empathetic atmosphere that allows each member to give and take
Works together to help everyone grow
A quality support group can have a positive impact on mental health and well-being.
How to Find a Support Group for Depression
Support groups for depression offer help and hope. If you're interested in attending a depression help group in your community, there are places you can look to find information.
NAMI (National Alliance for Mental Illness)
DBSA (Depression Bipolar Support Alliance)
Local mental health agencies
Wellness centers
The offices of doctors and/or therapists
Hospitals
Places of worship
Newspapers
Self-help groups for depression can be very helpful in healing and recovery. Finding and attending a good support group can be a powerful way to get over depression.
APA Reference
Peterson, T. (2021, December 23). Are Support Groups for Depression Really Helpful?, HealthyPlace. Retrieved on 2023, December 3 from https://www.healthyplace.com/self-help/depression/are-support-groups-for-depression-really-helpful
Last Updated: March 25, 2022