Tips for Parenting Children with Special Needs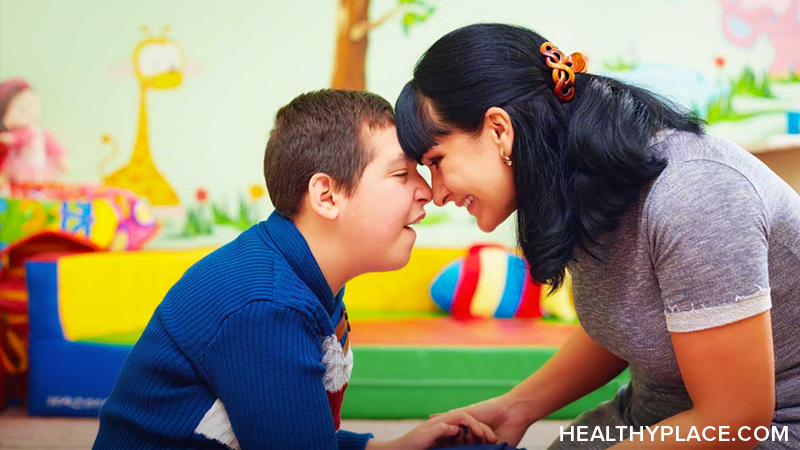 Parenting children with special needs creates a vortex of roiling emotions that swirls over you, your child, and your entire family creating difficulties that you might wish weren't part of your life. Whether your child's disability is emotional or behavioral, physical/medical, sensory, or developmental, their needs are often intense and exhausting. The following insights and tips for parenting children with special needs can help relieve parenting stress and frustration.
Tips for Parenting Children with Special Needs: Ideas for Child-Raising
The disorders, conditions, and disabilities of kids with special needs can be confusing and overwhelming. Make things easier by becoming an expert in your child. Learn about their condition and what they need to function well. Keep a binder or files on your computer with key information; doctors, therapists, and other specialists who your child needs to see; contacts in your community; and notes from appointments. You'll feel more in charge of the disorder and better equipped to deal with it.
Sometimes, parents with special needs children wonder if they should bother with discipline. Some wonder if there's a point. Others think it might be too harsh or cruel to discipline a child who's already having extra struggles. On the contrary, failing to discipline sends the message that your child isn't capable of learning behavior skills or isn't worthy of the effort. Here are some tips for learning how to discipline a special needs child:
Understand everything you can about your child's condition so you know what drives their behavior
Focus on teaching right from wrong
Clearly define your expectations
Keep expectations and rules simple
Be clear and consistent
A system of rewards and consequences works best
Praise your child often
Remember that your child is a whole person, more than just their discipline problems
Other helpful tips for parenting your special needs child include:
Of all your roles, remember the most important—you're their parent who loves, comforts, and supports them
Listen to your child fully, with undivided attention
Empathize with their frustrations and struggles
Celebrate their little victories together
Advocate for your child to make sure they're treated properly 
Consider yourself an imported member of your child's care team of therapists, and doctors
Believe in your child—and in yourself
Even with these tips, parenting a special needs child is demanding and exhausting. Preventing burnout is important.
Tips for Preventing Special Needs Mom Burnout
Special needs mom burnout (and dad burnout) happens. You can avoid living in a constant state of tension by parenting yourself as much as you parent your children. Here are some ways to do it:
Commit to self-care by acknowledging its importance and drawing up a contract for yourself to keep your commitment
Remind yourself that calm has a ripple effect, beginning with you and extending outward through your family
Tune into yourself by periodically closing your eyes and slowly scanning from your feet to your head, noting tension and stretching gently to release it.
Take short breaks to relax and reset, walk around your yard, or other things you enjoy
Ask for help. Even superheroes have teams or support people.
Join a support group to socialize with people in similar situations, learn how they cope, and more
Avoid isolating by getting out on your own, with your child, and as a family and enjoying simple, fun activities
Feeling stuck and alone, stressed and upset, guilt for sometimes resenting your special needs child or for thinking that you don't do enough, and myriad other negative thoughts and emotions build and threaten to take over when you're frazzled. Self-care reduces the intensity of the negative and replaces it with more realistic, positive thoughts and emotions. Keeping special needs parent burnout at bay with self-care does wonders for you and your child.
Parenting Children with Special Needs: Tips for Quality Family Life
A child with special needs requires more of your time and energy than do your other children and partner. It makes sense to focus on your special needs child. Remembering to nurture your relationship with other family members contributes to a happier, calmer family (and, of course, you are a family member, too). Fostering love, acceptance, and positivity for everyone in your family involves things like:
Scheduling one-on-one time for you and your partner, you with each child, and your partner with each child
Show interest in and support of everyone's activities and pastimes
Be open and honest about your child with special needs, answering the questions your other children ask
Foster an attitude of acceptance, compassion, and respect for everyone
Intentionally focus on everyone's strengths, accomplishments, and character
Parenting children with special needs involves flexibility and compassion. It also means embracing your unique "normal." Each family has their own type of normal. Yours has one, too. Own it, enjoy it, and don't apologize for it.
See Also:
APA Reference
Peterson, T. (2022, January 17). Tips for Parenting Children with Special Needs, HealthyPlace. Retrieved on 2023, November 30 from https://www.healthyplace.com/parenting/learning-disabilities/tips-for-parenting-children-with-special-needs
Last Updated: January 17, 2022