Parent-Child Interaction Therapy for Disruptive Children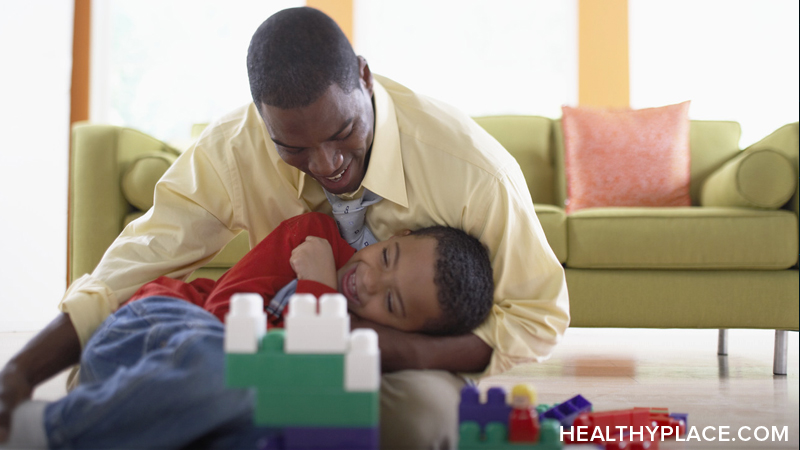 Parent-child interaction therapy is a way of working with young children with disruptive behavior disorders. The approach focuses on improving the parent-child relationship. It also helps parents to encourage appropriate behavior in their children, such as listening and following directions, while decreasing inappropriate behaviors, such as hitting or shouting. Parent-child interaction uses observation and live coaching to improve a child's behavior, self-confidence and security within a family.
What Is Parent-Child Interaction Therapy?
Parent-child interaction therapy is an evidence-based treatment that's often used for emotional and behavioral disorders. It combines elements of play therapy and behavioral therapy. Parents and their children attend PCIT sessions to improve their relationship and build positive interaction patterns.
The approach is based on Baumrind's 1966 Developmental Theory of Parenting, which focuses on social learning principles and teaches a combination of authoritative, nurturing and communication-based parenting skills. This style has been associated with the decline of behavior problems and better parent-child relationships across many clinical trials. It teaches specific behavioral techniques, such as interrupting cycles of escalating negative behaviors, consistency in discipline and clear limit-setting.
PCIT is also rooted in attachment theory – the idea that child development only occurs within a secure parent-child relationship. In contrast, an insecure parent-child attachment can lead to aggression, insecure attachments and poor relationships with peers. In parent-child interaction therapy, a secure attachment is a necessary foundation for improved mental health for both parent and child.
Parent-Child Interaction Therapy (PCIT): How Does It Work?
Parent-child interaction therapy consists of two stages:
Child-directed interaction (CDI): parents learn to follow the child's lead as long as the child demonstrates appropriate behavior.
Parent-directed interaction (PDI): parents practice authority skills and take the lead whenever necessary
What makes parent-child interaction therapy (PCIT) unique is that practitioners use a technique called live therapy. This is where child-parent interactions are monitored (typically from behind a one-way glass screen or window to a playroom), and the parent is coached in de-escalation and positive reinforcement techniques through an earpiece. Before this, parents are taught the skills they will need to draw upon in the live therapy session.
The benefit of this approach is that it provides real-time direction for the parent and helps to deescalate conflict. Through live coaching, the parent learns practical skills and techniques that he or she can then apply in the home setting once therapy is complete.
The treatment ends when a child's behavior is considered within the "normal" appropriate range. This takes approximately 15-20 sessions, according to a report published in 2016. This means that every course of completed PCIT is considered a success. Not only can this help to improve the confidence of the parent and teach them discipline skills and coping techniques, but it can also help the child feel that he or she has achieved something.
Who Benefits from Parent-Child Interaction Therapy Activities?
The activities explored in parent-child interaction therapy can benefit both child and parent, as well as other family members who may be impacted. PCIT is often used in young children (aged 2-6) who have behavior problems. It is also considered an effective intervention for physical abuse among children, as well as a proven treatment method for attention deficit hyperactivity disorder, autism spectrum disorder, separation anxiety and childhood depression.
If you think you and your child could benefit from parent-child interaction therapy, you can find a certified PCIT therapist through the PCIT International website.
APA Reference
Smith, E. (2019, September 18). Parent-Child Interaction Therapy for Disruptive Children, HealthyPlace. Retrieved on 2023, December 8 from https://www.healthyplace.com/other-info/mental-illness-overview/parent-child-interaction-therapy-for-disruptive-children
Last Updated: October 15, 2019