How To Talk To Your Child About Your Addiction
Does your child know about your addiction? Although you may not have formally talked to your child about your drug addiction or alcoholism, depending on your child's age, there's a good chance they already recognize there's a problem (Children See the Truth No Matter What We Say). If that's the case, you may be thinking, "How do I talk to my child about my addiction?"
Talking to Kids About Parent's Addiction
Making the decision to seek treatment for an addiction is no doubt a courageous one). For most people, it means admitting that one is powerless against his or her addiction and is in need of help to overcome it (Advice For Regaining Control Of Your Life In Early Sobriety. Whether seeking addiction treatment means partaking in a residential, inpatient, partial hospitalization, or intensive outpatient program, the common denominator is that the individual will require time and focus in order to successfully break free from the grips of an addiction to drugs and/or alcohol.
---
Treatment Program: Heather Wilk, MA, NCC, LCPC writes on behalf of Bowling Green Brandywine, a renowned provider of chemical dependency treatment located in the Brandywine River Valley in Pennsylvania that offers residential, partial hospitalization, intensive outpatient, and specialized programming for men and women.
---
Given the fact that it takes time and effort to defeat a substance abuse problem, many men and women often struggle with how to adjust their other responsibilities around their commitment to recovery. Additionally, for those who have children, they may also be unsure of how to best address what they are going through with their sons and daughters. Here are a few suggestions that could help parents talk to their children about addiction.
Have an Honest Conversation About Addiction with Your Child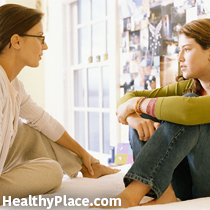 Children, in general, are often very perceptive of what is going on at home. Depending on the child's age, a young person may recognize that his or her mother or father behaves differently or drinks during the day or in the evening. However, what some children, especially those who are younger, may not understand is what exactly is going on with their parent or parents. For children that are younger, explaining the concept of addiction can be a bit too difficult for them to understand. When this is the case, it could be better to explain that mommy or daddy "does not feel good" but is going to get better. If this is the approach utilized, it is important for parents to reaffirm their love for the child and make every effort to remain active in the child's life while in treatment.
If one's child is a bit older and considered a pre-adolescent or adolescent, parents do have the option of having an honest conversation with their son or daughter. Children who are at least 10 years old likely have some awareness of drugs and/or alcohol and can comprehend a bit better the notion of seeking treatment (Effects of Drug Addiction [physical and psychological]). However, should a parent elect to discuss his or her addiction with his or her children, it is important to be prepared to answer questions. By having an open, honest, yet age-appropriate conversation, children can come to understand why treatment is important and parents can prevent their children from developing feelings of self-blame or abandonment during the recovery process. Lastly, and similar to what should occur with younger children, it is beneficial for a parent battling addiction to reaffirm his or her love for his or her child and attempt to remain an active presence in his or her life.
Enlist the Help of Other Loved Ones
If you, as a parent, do not feel comfortable discussing your addiction with your child or children alone, there is no shame in requesting the help of loved ones; however, it is important to keep the aforementioned suggestions in mind regardless. By having one's spouse, sibling, or close friend present, it could make the conversation less intimidating for you (Causes of Addiction). Additionally, you may want to especially consider enlisting the help of a relative or friend that is close with your child or children if you do elect to include other people in your discussion. In choosing a person or people with whom your child or children is close to, you will be helping your child or children establish a strong support network that can be relied on while you are working on your recovery (Characteristics of Adult Children of Trauma and Addiction).
Involve an Addiction Treatment Professional
Some parents may not know how to have an age-appropriate conversation with their children about addiction, and they may even be concerned that they will say the wrong thing. When this is the case (even if the individual would like to include other loved ones in the discussion), it could be beneficial to recruit a mental health professional or addiction specialist when broaching the topic of addiction with one's child or children. Either of these professionals can help guide the conversation in an appropriate manner and help your child or children understand addiction in a way that makes sense to them. Lastly, a professional can help parents learn the best ways to reaffirm their love for their child or children, and assist all parties involved in developing a deeper and supportive bond with one another.
See Also:
APA Reference
Poling, R. (2016, March 20). How To Talk To Your Child About Your Addiction, HealthyPlace. Retrieved on 2023, December 10 from https://www.healthyplace.com/blogs/mentalhealthtreatmentcircle/2016/03/how-to-talk-to-your-child-about-your-addiction
Author: Ryan Poling, MA, MAT
Hi i am Krismathew. I am a researcher in Dropship-rx. Actually i am addicted by drugs and my child is 12 years old only. Is it a perfect time to tell her everything about my drug addiction. Thanks for this kind of post.
Leave a reply