Dementia: Leaving Inpatient Treatment
Upon receiving a diagnosis of Alzheimer's disease or dementia, many individuals may enter into an inpatient treatment program that is specifically designed to help stabilize those who are exhibiting altered mental states, behavior problems, agitation, or symptoms of another mental health disorder. Through an inpatient treatment program, individuals with dementia will be able to get the medication and various therapies they need to get back to their highest level of functioning. Since all of an individual's needs are met while he or she is in the care of an inpatient treatment program, it can be difficult to know what to do when he or she is discharged from the program.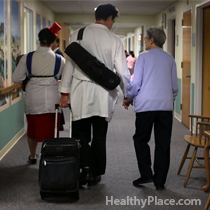 Depending on the stage of dementia an individual is in when they leave inpatient treatment, he or she will be able to return home to the care of his or her loved ones, but in other cases it may be time to consider other living arrangements.
Dementia Patient: Adjusting to Home Life
Once an individual has been stabilized and returns back to the home environment, one of the most important things a family can do is to remain supportive of one another. Being a caregiver for a loved one can be challenging and, at times, emotionally draining, which is why it is important to have a supportive family network. Additionally, there are some approaches you can take that can make it easier to provide care in your home. These approaches may include:
Speak to your loved one's doctor from his or her inpatient treatment program as they will have put discharge plans in place for continued care when the patient is ready to return home. Discharge plans will indicate medication instructions and will also provide you with options for outpatient therapy if your loved one is still struggling with some emotional or behavioral issues associated with their dementia.
Remain active so that your loved one gets regular exercise and activity. Modify activities to fit your loved one's level of functioning and try to incorporate things they used to enjoy.
Establish a daily routine and follow it. Try to develop a pattern when eating, bathing, and sleeping.
Put yourself in their shoes. It can be extremely frustrating for everyone involved if you try to force someone with dementia to see your way of thinking.
Make sure the environment is safe by keeping medication and hazardous materials out of reach or locked away.
Obtain outside services when needed such as adult day services, at home services, or respite care.
Take care of yourself because you will not be much help to your loved one if you are not healthy yourself. Make sure you eat well, get enough rest, and take the time to do things that you enjoy.
There are many different sources that provide education and support for those who are caring for individuals with dementia, which can be very helpful for addressing a number of concerns. There are programs available that will provide caregivers with hands-on training to learn the skills needed to manage daily stress and how to transform your home into a place of safety and comfort.
---
Lauren Hardy M.A., writes on behalf of
Delta Medical Center
, which offers many specialized services including a behavioral health program, detoxification services, and a specific geriatric life skills unit.
APA Reference
Hardy, L. (2014, June 3). Dementia: Leaving Inpatient Treatment, HealthyPlace. Retrieved on 2023, December 2 from https://www.healthyplace.com/blogs/mentalhealthtreatmentcircle/2014/06/dementia-leaving-inpatient-treatment
Author: Lauren Hardy, MA