Undead Face Stigma When Seeking Out Mental Health Care
On Halloween, across this fine land of ours, little bourgeois American children dress up like who and what they fear and haunt the leafy cul-de-sacs of suburban housing developments stuffing Walmart bags full of sugar-rich candy certain to kick their ADD into high gear. Yes, it's a night of ghouls, ghosts, vampires, villains, lobbyists, gangsters, mass murderers, bankers, assassins, blackmailers, and monsters of every imaginable description. While the holiday simply oozes good-natured fun and games, it also casts a sad shadow across our culture. This is because these characters, so exploited for their shock appeal, are frequently underserved by the mental health community. What do I mean by this?
Much has been written in recent years about the undead. The undead face a great deal of ridicule, mostly because they walk so slowly, and are not particularly frightening. However, the undead are falling apart, frequently losing bits and pieces as you watch, and most troubling of all, eat brains. One must wonder how far some of them must go in order to get a complete meal.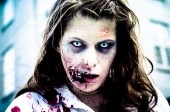 The American public's relationship with the undead differs little from its relationship with other minority groups. They are exploited for entertainment purposes, political purposes, sociological purposes, and of course, economic purposes; but little thought is given to their needs.
This brings up the rather challenging question, precisely what are the mental health needs of the undead? It will not surprise you to learn that very little research has been done in this field. As a rule, healthcare research is only done when there is a hypothetical payday down the road. Experts agree that a pharmacological solution for the undead is unlikely, and even if there was a hope, getting money from the undead is so challenging as to render them negligible from an economic viewpoint. What this means is that, like so many other underserved minority groups, the undead are last on the list when it comes to innovative mental health.
Some independent groups are pursuing the matter, subsisting on generous grants from the Ford foundation, the Bill and Melinda Gates foundation, and the Foundation Preservation Foundation. According to preliminary findings based on surveys conducted under the most trying circumstances imaginable, the undead suffer from many of the same psychological ailments that plague you, me, and other so-called normal people.
Depression is rampant among the undead. While this hardly seems surprising, researchers were shocked by the levels of hopelessness, anxiety, fear, anger, and bitter disappointment experienced by the undead on a daily basis. Researchers agree that if something could be done to alleviate this depression, or at least ameliorate it, the undead could possibly integrate themselves into society more successfully. Indeed, low self-esteem, depression, and hostility appeared to be the unholy troika standing in between the undead and employment.
A recent Foundation Preservation Foundation study determined that 4 out of 5 psychiatrists would not treat the undead, even if they had health insurance. Undead spokesman Chumley Throckmorton commented, "This is precisely the sort of abuse, stigma, and prejudice reinforcing the low self-image felt by the undead. A vicious cycle is perpetuated, undead eats brains of living, living whose brains have been eaten by the undead becoming undead themselves, newly undead eats brains of living, and so on and so on. It's just so typical!"
APA Reference
McHarg, A. (2013, October 29). Undead Face Stigma When Seeking Out Mental Health Care, HealthyPlace. Retrieved on 2023, October 1 from https://www.healthyplace.com/blogs/funnyinthehead/2013/10/undead-face-stigma-when-seeking-out-mental-health-care
Author: Alistair McHarg
Hi Alistair! I can see where the undead would be stigmatized. Perhaps a new fund raising campaign can be formed, a 5k walk for the undead. It is uncertain how many undead could participate,the brain eating thing and falling pieces may inhibit some walkers from signing up. (The CDC had a section on how to avoid Zombies on their website some time ago,not really sure if it is still there,but is was a fun piece) All the best, enjoy that extra hour of sleep coming up. :)
Leave a reply