For Mental Health Community, Hollywood's Oscar Is Still A Grouch
It's been said that Hollywood is the one place in the world where they really do believe practice makes perfect – because, it churns out the same exhausted retreads year in and year out. Indeed, it's axiomatic in Hollywood that an original idea isn't merely unwelcome, it's a career killer.
For decades, members of the mental health community, especially those who labor every day under the burden of mental illness, have looked to the west in hopes of seeing films that address psychological and emotional issues with courage, insight, and creativity. To their horror, only clowns, boiled eggs, and serial killers riding tricycles looked back.
Every now and again, despite the laws of probability, a film boldly examining the world of mental illness does get made, and almost without exception such films lead lives so abbreviated a drosophila would pity them. This discouraging trend was never more in evidence than it was at this year's Oscars. The Academy succeeded in completely ignoring an unusually robust selection of mental health oriented films this year, leaving all of us in the mental health community to wonder – Am I ready for my close up, Mr. DeMille?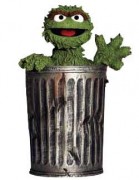 Here are just a few films about mental illness snubbed by grouchy Oscar.
Mr. Pinocchio – Starring Tom Cruise. In this live action retelling of the classic, Pinocchio, played by Cruise, is a compulsive liar who subliminally gives himself away, thereby routinely running in circles of self-sabotage. The Cleveland Plain Dealer gushed, "Marvelous! Cruise has never been more wooden!"
The Boring Identity – Starring Adam Sandler. A poignant saga about a boy so bland and boring that he compulsively creates alternate identities he inhabits and discards. When one of them takes over – leaving him separated from his past – confusion reigns and hijinx ensue. The Detroit Free Press opined, "Sandler really shows us what he's got in this one, running the full gamut of emotions from A to A-minus."
Oh See Dee! – Starring Sarah Silverman, Directed by Jim Jarmusch, sountrack by Marc Ribot. This ebullient, puckish portrayal of a narcissist, Silverman, with Obsessive Compulsive Disorder, held counter-culture audiences spellbound but failed to impress Academy judges. The Sheboygan Tattler noted, "It felt considerably longer than its 7.3 hour run time. The bead store scene alone weighs in at a beefy 75 minutes. Apparently Jarmusch was determined to top his love song to pointlessness, "Stranger Than Paradise."
So, fellow whackadoomians, like so many others, we will wait until next year to meet Oscar face to face. Until then it's your life, make your own movie.
APA Reference
McHarg, A. (2012, February 29). For Mental Health Community, Hollywood's Oscar Is Still A Grouch, HealthyPlace. Retrieved on 2023, December 7 from https://www.healthyplace.com/blogs/funnyinthehead/2012/02/for-mental-health-community-hollywoods-oscar-is-still-a-grouch
Author: Alistair McHarg