Shocking Research Links Mental Illness And Bad Luck
"Everything happens for a reason; often it's a very bad reason." Taz Mopula
Lord Chumley Frampton, Dean of Statistical Analysis at Basingstoke University, stunned the mental health community recently by announcing that his team of researchers had located a quantifiable connection between mental illness and bad luck. While a relationship has been suspected for decades, Lord Frampton is the first to isolate it.
The following comments are excerpted from Lord Frampton's prepared statement.
"People erroneously believe that bad luck is a natural force, like gravity, over which they are powerless. But our research indicates that in fact bad luck is like a cloud of metal filings always in our midst, which can be attracted simply by waving a magnet in the air. Moods, behaviors, attitudes, expectations and even wardrobe can take the place of this metaphorical magnet, summoning the seven horsemen of bad luck into our camp and challenging them to do their very worst. It is almost as if we manufacture our own fortunes.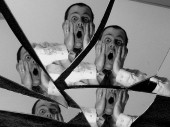 "What amazed the team was an astounding correlation between the presence of mental illness and a propensity towards bad luck. Bear in mind that we did not initially target the mentally ill. Over time, a rapidly growing mountain of anecdotal evidence caused us to shift our focus. Here are just a few of the findings that led us to our hypothesis."
Schizophrenics are 10 times more likely to sit on a porcupine than the average citizen. While there is no science to suggest that schizophrenic porcupines are 10 times more likely to be sat upon, we do suspect it. The number of schizophrenic porcupines sat upon by schizophrenic human beings in a given year is statistically insignificant.
Clinically Depressed individuals are 17 times more likely to be struck by lightning. (Remarkably, only one out of every three who are struck even notice. Another third are actually pleased to have had their world-view validated.)
Bipolar Disorder sufferers are three times as likely to hit the lottery. This seems lucky; except that, those who do are thirteen times as likely to lose all their winnings on mad spending sprees, thus rendering them far more miserable than they were to begin with.
Narcissists are five times as likely to have a mirror shatter. Our researchers believe that this is because they are five times as likely to be in front of a mirror in the first place.
Those with Obsessive Compulsive Disorder are six times as likely to step on a crack, and 19 times as likely to do it over and over and over.
Addicts & Alcoholics are 19 times more likely to crawl under a ladder and have a large can of paint fall on their head. (Well over 50 percent of those who do decide to spend the night there.)
Excited by these breakthrough discoveries, Lord Frampton says he and his team will next be looking for connections between mental illness and the Law of Supply and Demand.
APA Reference
McHarg, A. (2011, October 25). Shocking Research Links Mental Illness And Bad Luck, HealthyPlace. Retrieved on 2023, December 9 from https://www.healthyplace.com/blogs/funnyinthehead/2011/10/shocking-new-research-links-mental-illness-and-bad-luck
Author: Alistair McHarg
I knew it. The pessimist inside me is feeling so validated.
Another hit, Mr. McHarg. :)
Leave a reply