Overview Of Lamotrigine (Lamictal) Therapy In Bipolar Disorder
Report indicating Lamictal is an effective maintenance therapy for bipolar I disorder.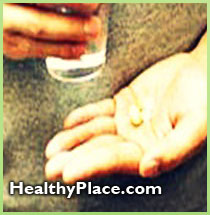 Lamotrigine (Lamictal) has been shown to be an effective maintenance therapy for patients with bipolar I disorder, and is approved in the United States for the treatment of adults to delay the time to occurrence of mood episodes in patients treated by standard therapy for acute mood episodes.
In a recent publication, David R. Goldsmith and colleagues of Adis International Limited in Auckland, New Zealand, performed an overview of lamotrigine (Lamictal®), a well-established anticonvulsant agent, and its application in cases of bipolar disorder.
Early studies in patients with epilepsy who were treated with lamotrigine indicated a propensity for improved mood, leading to clinical trials in patients with bipolar disorder. Although lamotrigine's mechanism of action in bipolar patients is undetermined, it may be related to the inhibition of sodium and calcium channels in presynaptic neurons and subsequent neuronal membrane stabilisation.
Compared to placebo, lamotrigine monotherapy has been demonstrated to significantly delay time to intervention with additional pharmacotherapy or electroconvulsive therapy for any new mood episode, as well as prolong time to intervention for depression.
Furthermore, lamotrigine appears superior to lithium at prolonging time to intervention for a depressive mood episode. While lamotrigine has also been found to significantly delayed time to intervention for a manic/hypomanic episode, it does not appear effective in the treatment of acute mania.
In 2 maintenance trials, lamotrigine monotherapy was generally well tolerated, with common adverse events being headache (19%), nausea (14%), infection (13%), and insomnia (10%). After 52-weeks of treatment, lamotrigine did not appear to cause an increase in body weight.
Approximately 0.1% of study participants receiving lamotrigine developed a serious rash, including 1 case of mild Stevens-Johnson syndrome. Subsequently, the dosage of lamotrigine is titrated over a 6-week period to 200 mg/day to minimise the incidence of serious rash.
Dosages over 200 mg/day are not recommended, and no formal recommendations exist for lamotrigine (Lamictal) maintenance therapy duration in bipolar I disorder.
Source: CNS Drugs 2004;18:1:63-67. "Spotlight on lamotrigine in bipolar disorder"
next: FAQ: Topiramate (Topamax) for Treating Mood Disorders and PTSD
~ bipolar disorder library
~ all bipolar disorder articles
APA Reference
Staff, H. (2004, February 6). Overview Of Lamotrigine (Lamictal) Therapy In Bipolar Disorder, HealthyPlace. Retrieved on 2023, November 29 from https://www.healthyplace.com/bipolar-disorder/articles/lamictal-therapy-in-bipolar-disorder
Last Updated: April 6, 2017