How Can I Help My Bipolar Child?
Finding the right kind of doctor, monitoring your child's moods, getting prompt diagnosis and treatment are ways parents can help their bipolar child.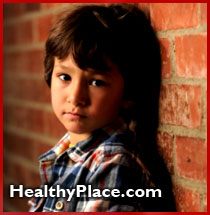 Parents concerned about their child's behavior, especially suicidal talk and gestures, should have the child immediately evaluated by a professional familiar with the symptoms and treatment of early-onset bipolar disorder.
There is no a blood test or brain scan, as yet, that can establish a diagnosis of bipolar disorder.
Parents who suspect that their child has bipolar disorder (or any psychiatric illness) should take daily notes of their child's mood, behavior, sleep patterns, unusual events, and statements by the child of concern to the parents. Share these notes with the doctor making the evaluation and with the doctor who eventually treats your child. Some parents fax or e-mail a copy of their notes to the doctor before each appointment.
Because children with bipolar disorder can be charming and charismatic during an appointment, they initially may appear to a professional to be functioning well. Therefore, a good evaluation takes at least two appointments and includes a detailed family history.
Finding the right doctor
If possible, have a board-certified child psychiatrist diagnose and treat your child. A child psychiatrist is a medical doctor who has completed two to three years of an adult psychiatric residency and two additional years of a child psychiatry fellowship program. Unfortunately, there is a severe shortage of child psychiatrists, and few have extensive experience treating early-onset bipolar disorder.
Teaching hospitals affiliated with reputable medical schools are often a good place to start looking for an experienced child psychiatrist. You can also ask your child's pediatrician for a referral or call your county medical society. Additionally, check the CABF Directory of Professional Members to see the names of doctors who practice in your area.
If your community does not have a child psychiatrist with expertise in mood disorders, then look for an adult psychiatrist who has 1) a broad background in mood disorders, and 2) experience in treating children and adolescents.
Other specialists who may be able to help, at least with an initial evaluation, include pediatric neurologists. Neurologists have experience with the anti-convulsant medications often used for treating juvenile bipolar disorders. Pediatricians who consult with a psychopharmacologist can also provide competent care if a child psychiatrist is not available.
Some families take their child to nationally-known doctors at teaching hospitals for diagnosis and stabilization. They then turn to local professionals for medical management of their child's treatment and psychotherapy. The local professionals consult with the expert as needed.
Experienced parents recommend that you look for a doctor who:
is knowledgeable about mood disorders, has a strong background in psychopharmacology, and stays up-to-date on the latest research in the field
knows he or she does not have all the answers and welcomes information discovered by the parents
explains medical matters clearly, listens well, and returns phone calls promptly
offers to work closely with parents and values their input
has a good rapport with the child
understands how traumatic a hospitalization is for both child and parents, and keeps in touch with the family during this period
advocates for the child with managed care companies when necessary
advocates for the child with the school to make sure the child receives services appropriate to the child's educational needs.
next: Impact of Bipolar Disorder on Girls
~ bipolar disorder library
~ all bipolar disorder articles
APA Reference
Staff, H. (2008, October 28). How Can I Help My Bipolar Child?, HealthyPlace. Retrieved on 2023, December 9 from https://www.healthyplace.com/bipolar-disorder/articles/how-can-parents-help-their-bipolar-child
Last Updated: April 3, 2017