Tips for Handling the Holidays with Addiction
Here's what's happening on the HealthyPlace site this week:
---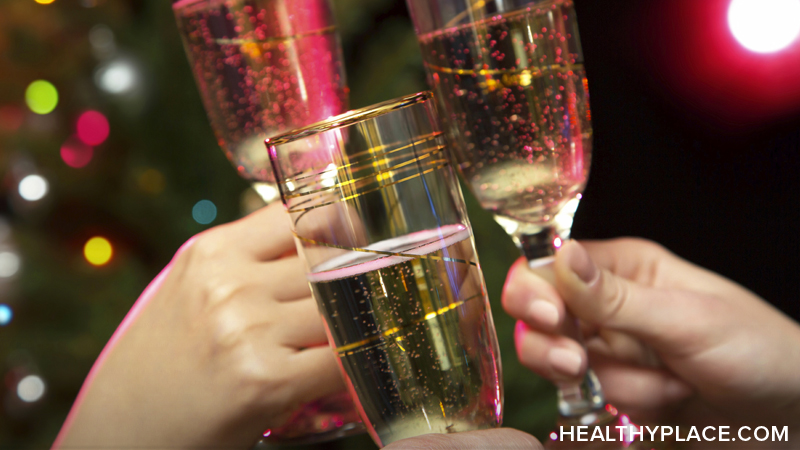 Tips for Handling the Holidays with Addiction
Beginning with Thanksgiving and extending to New Year's Day, the holiday season can be rough. Stress spikes for many people, especially so for those dealing with addiction and recovery.
Many types of addictions are triggered during the holiday season. Festivities intensify cravings for alcohol, nicotine, and other substances. Behavioral addictions such as eating addiction and shopping addiction are aggravated, too.
You don't have to avoid the whole season. These tips will let you enjoy yourself without succumbing to addiction triggers.
Tips for Handling Addictions During the Holidays
Know your "why." Having a purpose for staying sober or resisting food or shopping will help you stay focused. Create visual representations, such as phrases or images, of your life goals, the reason you're in recovery, and keep them handy wherever you go.
Know your "how." You have your reasons for resisting triggers. Now you need a plan for how to do it.
Determine which holiday events are safe for you to attend, which ones you can attend with caution and time limits, and which ones are so triggering that you should opt out of.
Intentionally practice self-care so you can avoid the HALT triggers. It's harder stay true to your "why" when you are hungry, angry, lonely, or tired.
Give yourself choices. Rather than thinking of what you can't have or do, focus on what you can do. Take your own food or drinks with you to events.
Go to an outdoor shopping center after hours to see the festive decorations. Think about replacing or adding new experiences rather than having to eliminate what you used to enjoy.
Know your "why" and your "how," your purpose and your plan, and you can enjoy the holiday season despite addiction.
Related Articles Dealing with Holidays and Addiction
Your Thoughts
Today's Question: What triggers your addiction during the holidays and how do you handle it? We invited you to participate by sharing your thoughts, knowledge, and experiences on the HealthyPlace Facebook page and on the HealthyPlace Google+ page.
---
---
From the HealthyPlace Mental Health Blogs
On all our blogs, your comments and observations are welcomed.
Feel free to share your thoughts and comments at the bottom of any blog post. And visit the mental health blogs homepage for the latest posts.
------------------------------------------------------------------
From HealthyPlace YouTube Channel
I'm Hannah. I Have Bipolar 2
Hey Doc! Bipolar Treatment Isn't Just about Stability
I have received many messages from people with bipolar disorder who are beginning to lose hope when it comes to finding a good bipolar disorder treatment plan. I can relate to these feelings of disappointment and despair. For years, doctor after doctor talked to me about bipolar treatment in terms of stability, as if stability was the be all and end all of treating bipolar disorder. (Watch Hannah)
------------------------------------------------------------------
Most Popular HealthyPlace Articles Shared by Facebook Fans
Here are the top 3 mental health articles HealthyPlace Facebook fans are recommending you read:
If you're not already, I hope you'll join us/like us on Facebook too. There are a lot of wonderful, supportive people there.
------------------------------------------------------------------
Mental Health Quote
"I am not afraid of the dark, I'm more afraid of not finding the light once again."
Read more mental health quotes.
------------------------------------------------------------------
That's it for now. If you know of anyone who can benefit from this newsletter or the HealthyPlace.com site, I hope you'll pass this onto them. You can also share the newsletter on any social network (like facebook, stumbleupon, or google+) you belong to by clicking the links below. For updates throughout the week, circle HealthyPlace on Google+, follow HealthyPlace on Twitter or become a fan of HealthyPlace on Facebook. Also, check out HealthyPlace on Pinterest and share your mental health pins on our Share Your Mental Health Experiences board.
back to: HealthyPlace.com Mental-Health Newsletter Index
APA Reference
Peterson, T. (2017, November 21). Tips for Handling the Holidays with Addiction, HealthyPlace. Retrieved on 2023, December 9 from https://www.healthyplace.com/other-info/mental-health-newsletter/tips-for-handling-the-holidays-with-addiction
Last Updated: November 22, 2017