Interviews: On Rainbows...
Interview with Dr. Fred Stern, The Rainbow Maker, who creates natural rainbows in the sky as large as 2000 feet across for events in support of world peace and global unity.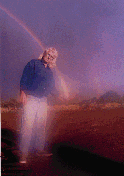 Fred Stern, the Rainbow Maker
Dr. Stern is an internationally recognized innovator in public art. He has served as Associate Professor of Sculpture at Pratt Institute, and as Associate Professor of Visual Arts at New York University, the University of Maryland and the Instituto De Allende in Mexico.
Stern has received five major awards from the National Endowment for the Arts and grants from many local and private agencies to support his work. He was the first artist to receive an Art in Public Places Individual Artist Award from the Endowment, for his rainbow work.
He has created natural man-made rainbows as large as 2000 feet across for the cities of Austin, Baltimore, Columbus Junction, Iowa, Chicago, El Paso, Huntington, Long Island, Klamath Falls, Oregon, Las Cruces, Miami, New York City, Salt Lake City, San Francisco, Santa Fe and Silver City, NM. In 1992, Stern created a series of rainbows at the U.N. sanctioned Earth Summit in Rio de Janeiro. In 1995, he presented his rainbow work, "Keshet Sheket," a Holocaust Memorial, as the opening piece for the Eutopia Festival in Potsdam Germany. This past summer he presented his work at the Stockholm Water Festival and created a moon rainbow for terminally ill children at Camp Sundown in New York.
---
continue story below
---
In 1996, in conjunction with Japanese National Television, he accomplished a long-term dream of creating a rainbow over the United Nations Building in New York. In this monumental piece, he raised what he sees, as the Planet's or God's true flag, over the flags of all nations, establishing a visual metaphor for Global Unity and World Peace.
Upcoming events include a rainbow for an Arab-Israeli Peace Conference in Haifa, Israel and a rainbow for the Hague Appeal for Peace in Holland.
Stern's rainbow work involves the creation of an artificial rainfall using fire truck or fire boats, pumping water into the air. The water drops refract the sunlight and establish the rainbow. A computer program is used to determine the optimal time, position and spray parameters for the rainbow generation.
Although his rainbow work began as Conceptual Sculptural Pieces, they have become Public Art works serving as a visual metaphor for global unity and world peace. As an artist, Stern combines a visual sensibility with an ethical responsibility in the realization of his work.
In addition to his rainbow work, Stern has become a vital force on the Internet through a series of web sites. The central one is http://www.rainbowmaker.us/. His work has been featured in the newly released book, "The Book of Rainbows" by Richard Whelan, First Glance Books, Cobb, Ca.
Stern has coordinated groups of artists in the presentation of public works for The International Sculpture Conference in Washington, D.C. and The Primer Gran Festival De Dos Culturas in Mexico. He served as an advisor and participant to the New York Annual Avant Garde Festival for more than 10 years.
---
Tammie: What moved you to begin creating rainbows?
Fred: I was working as an artist in Baltimore teaching at the University of Maryland. Much of my work involved large scale public art works. I was looking at how to make a large scale piece in an urban environment, easily. I came up with the concept of the rainbow. I saw it as sculptural. It was 3-d and it had a sense of the aesthetic. It just was not permanent. The first one was in 1978.
Tammie: You've traveled all over the world creating rainbows and I know that countless individuals who've experienced them have been profoundly moved. I'm wondering though if there's a particular event that you've participated in that has most moved you.
Fred: The Earth Summit in Rio in 1992. There were over a thousand children that came with banners to see the rainbow. There was no sun as they were arriving. Then when the last of the kids got to the beach the sun broke out. I can still hear them shouting, "Arco Iris" as the rainbow was sailed along the beach. When the event was completed the sun went back behind the clouds.
The other was the rainbow over the United Nations building in 92. That one took three years to realize, but it allowed the rainbow - the "planet's flag"- to be flown above the flags of all nations.
---
Tammie: You were quoted in the National Examiner as saying, "The most profound and enlightening things in life are always the simplest and most pure." I was hoping that you might elaborate on that.
Fred: What can be simpler than the way nature creates a rainbow. Individual droplets of water refracting the sun's rays. My work is nothing more than art imitating nature.
Tammie: You've consistently called upon artists to make statements with global messages. What do you see the role of the artist being in increasing consciousness?
Fred: I don't like the word consciousness. I feel that, in many ways, we are in a state of metamorphosis, moving from a life-destroying to a life-preserving species. The leadership for this metamorphosis can come from the religious leaders, the business community, the politicians or the scientists. They all have other agendas. The leadership must, of necessity, come from the artists since they are the only ones who can speak in a nonverbal language.
Tammie: Tears came to my eyes when I envisioned the deep and profound feelings that were inspired as your "Silent Rainbow" appeared over a German sky serving as a memorial to the holocaust victims. What was going on inside of you during this sacred moment as your rainbow arched over you?
Fred: Unfortunately, I was concerned about the positioning of the boats' hoses and communicating with the Captain of the boat by walkie-talkie. I am not too present at my rainbows, lots of details to deal with.
I was raised Jewish, although like you, I do not practice. Going to Germany to open a festival entitled "Eutopia," I had no choice but to become a Jewish Artist. The piece entitled "Keshet Sheket, The Silent Rainbow," moves me now even as I write it.
---
continue story below
---
The last time someone spoke of Germany and Eutopia, it was Hitler. My position was to make sure that we truly understood a Utopian goal in a German context.
Tammie: How has becoming a global citizen rather than simply a United States citizen shaped your life?
Fred: I am not sure I am a global citizen. I am just an idealist who believes if national boundaries were torn down, our world would have a better chance. Maybe not even an idealist, maybe just naive.
Tammie: Gandhi said that, "my life is my message." What is the message of your life?
Fred: This one brings a tear to my eyes as I struggle with it. My message is to believe in our children and the future of our world. The message of my life is about growing and becoming more able to love and be present and to not know anything about anything, to just be lead to learn better to read the signposts along the way.
---
You can visit Fred's extraordinary Website by following this link.
next:On Transformation, Medicine, and Shape Shifting with Dr. Eve Bruce
APA Reference
Staff, H. (2008, November 29). Interviews: On Rainbows..., HealthyPlace. Retrieved on 2023, December 5 from https://www.healthyplace.com/alternative-mental-health/sageplace/interviews-on-rainbows
Last Updated: July 18, 2014