Accepting That You Have A Mental Illness
Dysfunction doesn't run, it gallops through my family tree! Growing up in a home with parents who were depressed, anxious and with various other emotional problems, tends to create children with the same issues. I am a testament to just that. I have never felt normal. I was always very reserved, withdrawn, cried easily and often I just wanted to sleep. I had few friends. I still shy away from people.
Accepting You Have A Mental Illness Takes Time, Work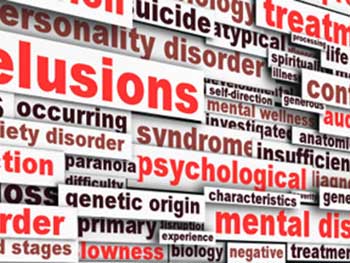 Now in my fifties, those negative influences have left their indelible mark in my brain and I have had to fight for peace of mind because it was a virtue that was as elusive as a butterfly. A possession not long held. I am diagnosed with dysthymia, anxiety disorders and I am prone to bouts of depression with paranoia. I have accepted my condition and have sought help. I have a counselor and doctor who treats my symptoms. I go to groups now where I share how I feel and try to encourage others who feel as if their lives have been turned upside down with an invisible illness.
It is difficult to explain to people that have not had similar problems, the difficulties one encounters when your brain isn't well. People look at me and say things like, "You don't look crazy. You look just fine to me!" They don't know that inside I may be on the verge of hysteria. I may be trying as hard as I can to follow a discussion, yet disturbing ideas keep intruding and distracting me. Some expect to find a middle-aged woman who babbles and drools in a corner of an institution somewhere. That is STIGMA. Unless someone sees me act out inappropriately, they don't believe me. That hurts!
Separating Your Identity From The Mental Illness
My condition is a part of my life, yet I am not the mental illness. I have an identity all my own. Although I don't go around with a badge on my shirt that tells everyone what my diagnosis is, there are times when I might disclose that I have a mental health condition and explain how I may react when I am triggered. I have decided that I will not be ashamed of the faulty wiring in my brain. I am still intelligent, I am in recovery and I am trying to get to a place where I can advocate for others.
Until we can educate one another about mental illness and show compassion toward those that suffer with it, ignorance will endure and stigma along with it. It's time for understanding and acceptance of an illness that cannot always be seen with the human eye.
(Ed. Note: If you feel the same way, please join the Stand Up for Mental Health Campaign.)
This article was written by:

Yelena Kersha is a full-time student at the College of Central Florida majoring in Psychology. She writes two blogs. Led to Truth, which deals with spiritual, sexual and emotional abuse and The Quieted Mind in which she shares her views on mental illness through the eyes of one who lives with it. She lives with her soul-mate and children in Central Florida. You can also connect with Yelena on Twitter.

To be a guest author on the Your Mental Health Blog, go here.