School Refusal: Is Anxiety Behind Your Child's School Avoidance?
I developed school refusal in eighth grade. It wasn't sudden. Over several months, I went from a straight A student who was reluctant to miss school even when sick, to a near dropout. First, my schoolwork suffered. I hid the cause of my academic decline behind rebellion and dyed black hair, so my school blamed hormones and started handing out detentions.
By suspending privileges and dispensing punishments, my teachers hoped to incentivize me to improve my performance. Unfortunately, this made school less appealing. Finally, after being removed from my advanced algebra class and placed in remedial pre-algebra, school became unbearable. I refused to attend. My parents offered rewards and punishments. My guidance counselor suggested I was taking drugs. My homeroom teacher thought it had to do with an eating disorder. A school nurse made the asinine suggestion that I was trying to avoid boys who were pressuring me to have sex; her belief being that girls lack sex drives of their own.
Anxiety and School Refusal
The real cause of my downfall was anxiety. Over the summer, my preexisting separation anxiety had followed a common trajectory and given way to Panic Disorder. Focusing in class became impossible because I was constantly panicking over some news story or imagined health issue. I was terrified and confused, and I just wanted to stay home.
Causes of School Refusal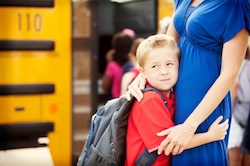 Many children who suffer from anxiety disorders develop school refusal at some point in their lives. In my experience, school refusal cannot necessarily be predicted by the severity of a student's anxiety. Take, for example, the anxious brother and sister I taught in Los Angeles. Although the girl's anxiety appeared to dwarf her brother's, she was eager to attend preschool, while he stubbornly stayed home. His difficulties attending school continued until fifth grade, when he came home one afternoon and explained that he was too scared to ever go to school again.
In such instances, parents typically suspect bullying, and bullying is of course a very real issue. However, there are myriad potential anxiety triggers at school. Some well-known causes of anxiety at school include tests, oral reports, auditions and sports try-out, and intimidating teachers. Parents and teachers may fail to consider more esoteric causes of school refusal, like germ phobias, anxiety about eating, and concerns about school shootings. Frequent class discussions about 9/11, which had occurred earlier that year, contributed heavily to my own school refusal. Although the attacks were fresh, I lived in California, so no one at my school guessed that I was preoccupied with fears of a terrorist attack.
School Refusal Treatment
Getting a child back to school can be complex and time-consuming. Because there are many causes of school refusal, it's important to listen to students and ask questions. Sometimes a new school is enough to solve the problem. Such was the case with the boy I taught in LA. For other students, the only effective cure for school refusal is ongoing treatment for anxiety. My pediatrician finally identified my anxiety, and diagnosis and treatment allowed me to resume normal attendance and improve my grades. I've included more tips for parents of students with school refusal here.
If you have experience with school refusal, either directly or as a parent, I hope you'll share them in the comment area below.



This article was written by Kiri Van Santen, a homeschool teacher, tutor, and coach specializing in the education of children with anxiety disorders. She was diagnosed with Panic Disorder and OCD in her early teens. Ms. Van Santen is also the author of the blog at www.fearless-learning.com. Follow her on Twitter @fearnolearning.
To be a guest author on the Your Mental Health Blog, go here.