Grieving a Child with Mental Illness
Last week, my son Bob announced he is no longer playing basketball. Bob's been playing competitively since age five and is pretty good. This year he is a junior in high school, which means varsity -- his dream.
Bob made the decision to quit because basketball is "no fun" anymore. It brings about severe stress and crippling anxiety. In the past, Bob's anxiety has led to depression and suicidal ideation.
I told my son I support him. I'm proud he made his mental health and well-being a priority. Then I went upstairs to the privacy of my bedroom and sobbed.
Grief is Common When Parenting a Child with Mental Illness
The five stages of grief following a loss are commonly known:
Denial
Anger
Bargaining
Depression
Acceptance
Let's be clear. Losing a child to mental illness is a huge loss to a parent. My own grief has been intense.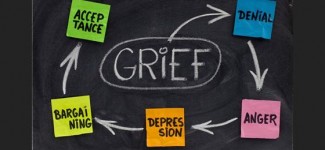 When my son was diagnosed with bipolar disorder at age 12, my husband and I mourned our many losses. We grieved the child we thought we had. We lamented the future we imagined for him. We sorely missed the friends that disappeared. We bemoaned the fate of our family, forever changed.
The National Alliance of Mental Illness (NAMI) describes the stages of emotional response a family goes through when dealing with mental illness:
Dealing with catastrophic events--shock and denial
Learning to cope--anger and grief
Moving into advocacy--understanding and acceptance
It is not surprising the two lists are similar. I quickly learned the grieving process is neither linear nor circular as I found myself jumping from shock and denial during each crisis to education and advocacy on account of my child's age.
Grieving Recurs for Parents of Mentally Ill Children
They say everyone grieves differently and there is no definitive end for the pain. Since Bob's diagnosis, the losses persisted. We mourned the family dinners and vacations we no longer took. We wept silently during the eighth grade dance and graduation Bob missed. We ached for the normal teen years and activities Bob would never experience.
There will be parental grief and loss with each transition Bob makes. Today we say goodbye to the state basketball championship. Soon Bob will go to college and start a career. Later he may get married and have children. Or not. Whatever Bob's choices, I'm certain his successes will be bittersweet for us.
With grief there is hope. I truly support Bob's decision to take a break from basketball. I am optimistic Bob will experience less anxiety this school year. I secretly fantasize Bob will use his free time to study more and improve his grades. I am prudently hopeful this decision will lead to others that sustain Bob's stability. I remind myself to live in the present and love the child I have with his many gifts and talents.
I accept grieving as a part of living with a mentally ill child. I acknowledge grieving can be healthy. I ask myself where I am in the grieving process and recall the stages are not linear. Finally, I grab a tissue and assure myself that sobbing today because Bob is no longer playing basketball is okay.