Life Is Good at 39, Even with Schizoaffective Disorder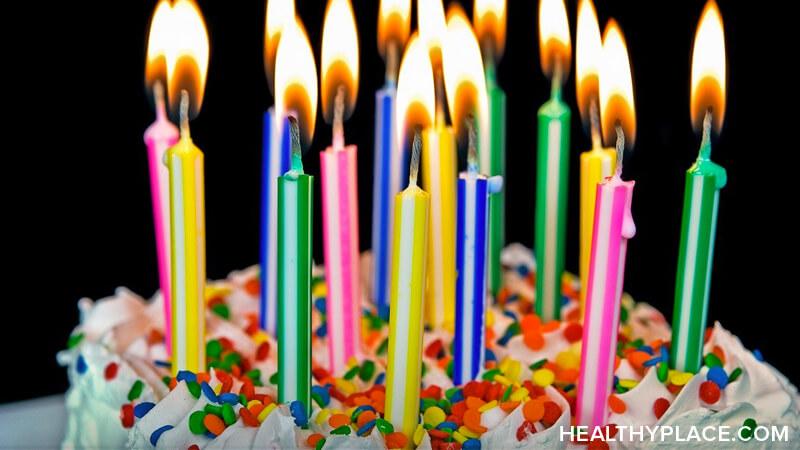 Life is good, even with schizoaffective disorder, and I look forward to April 15 when I turn 39. I was 19 ½ when I had my first schizophrenic psychotic episode and that means I developed schizoaffective disorder half my life ago. Life is good with schizoaffective disorder now, but has it always been that way?
Life Is Good and Has Been for Awhile
I had my first schizophrenic psychotic episode in the fall of 1998. Ten years later, I got married. If I had known in 1998 that I'd be getting married, maybe I wouldn't have felt so scared. Also, my marriage is successful. This fall, Tom and I celebrate our 10th anniversary.
Unfortunately, part of my schizoaffective disorder entails depression and extreme anxiety. Because of these two factors, the disorder has held me back professionally. It's hard to be out on a regular job (Not Working Because of Schizoaffective Disorder, Schizophrenia). That's why I'm so thrilled to be writing this blog—it gives me a sense of purpose and a feeling that I'm making a difference for other people.
My schizoaffective disorder didn't hold me back academically, though. I graduated from The School of the Art Institute of Chicago (SAIC), and while there, I studied at Parsons School of Design of the New School University in New York City under the auspices of SAIC. After graduation, I went on to get my Master of Fine Arts degree in photography from Columbia College Chicago. Yes, the degrees took me a little longer to complete but I am very proud of the work I did to earn them.
Looking Ahead to a Good Life with Schizoaffective Disorder
Looking ahead to the milestone of turning 40, I am taking stock of my life so far. I struggle. But I think I've made a very nice life for myself. My husband, Tom, is wonderful, I have a master's degree, I have this blog, and we live two blocks away from my parents, so I can go visit them anytime. I also love to visit their cat, George, who I care for when my parents go out of town.
There are some things I regret. I haven't traveled as much as I'd like to have. Sometimes I feel dorky for living so close to my parents. I'd like to eventually move into the city. But there's time for all that. For now, I feel that I'm living where I need to be. My parents and Tom are my support system, so it makes sense to have them nearby. And I live right by the train that goes into the city, so even if I don't live in the city I can go there whenever I want.
Life is good at 39.