What to Do if Someone with Bipolar Refuses Treatment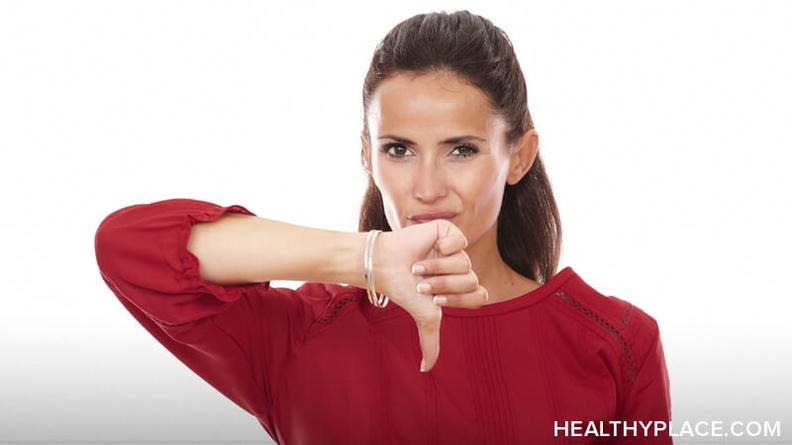 Bipolar disorder is a scary illness, but sometimes even scarier is the idea of treatment. Logically, going to the doctor, getting a diagnosis and getting help doesn't sound scary, but if you're the one faced with psychiatrists, personal, probing questions, destroying what you know and treatments that might make you feel worse before you feel better, you might find the concept daunting.
But what do you do if you're a loved one of a person with bipolar (or another mental illness) who is refusing treatment?
Why Do People Refuse Bipolar Treatment?
People refuse treatment for many reasons. As I mentioned, one of them is fear of treatment and fear of the unknown but there are other reasons too, such as:
Fear of doctors
Lack of trust or belief in medical treatment
No wanting to lose the mania of bipolar disorder
Fear of labeling and stigma
What's a Loved One to Do About Bipolar Treatment Refusal?
And sometimes, when faced with this wall of reasons not to get treatment, it can seem absolutely hopeless to get the person to see reason. But here's the thing, this wall of reasons basically comes down to only one thing: fear. And bipolar education creates knowledge and that knowledge dispels fear.
Offer Facts About Bipolar Treatment
So my best advice is to take a very logical approach with a loved one and deal with each fear one at a time. Sit down and ask the person why they are refusing treatment. Only he or she knows for sure, so make sure you at least understand his perspective as it's absolutely real and valid.

And then start dealing with the fear. If the person is afraid of doctors, this is perfectly reasonable. You can help by researching what will happen in the appointment ahead of time. You can help by researching doctors in the area and finding the best one. You can help by facilitating and going to the appointment. You can help by supporting the patient's wishes during the appointment. Doctors absolutely can be scary but what a patient really needs is someone on his side so that he doesn't feel "out-gunned" by someone in a position of authority.
If the fear is lack of trust or faith in medical treatment, this is understandable too. Then it's time to do research on treatments and find success stories for the person to read.
In short, calm, rational conversation can often pinpoint exactly why a person is refusing help and doing some research on your part can help assuage whatever fear the patient may have.
But What if They Still Refuse Bipolar Treatment?
Okay, but what if you've done all that and the person still refuses treatment?
Well, then you might want to remind them of what the problems are and what treatment can do. People only need help for a mental illness once the mental illness becomes a problem in their lives like when a person loses a job, or does poorly in school, or destroys relationships and so on. It's then that help is needed and so it's entirely appropriate to remind the person of these problems and talk about how something needs to be done to address them.
And if not treatment, then what? Does the person want to live without being able to work? Does he not want personal relationships? Does he want to flunk out of school? Probably not. And treatment is the way to address all these issues.
And if you do all that and you're supportive and you try your best and the person still refuses to budge, then you need to respect his opinion. I know it's hard to hear when you love someone, but unless the person is a minor or unless he's a danger to himself or others, the person absolutely has the right to refuse treatment. We're adults. We get to make choices and then live with the ramifications thereof, even if our loved ones disagree.
(And once that choice is made, you, as a loved one, have your own choices to make, many of which can be very hard, but that will have to wait for another article.)
You can find Natasha Tracy on Facebook or GooglePlus or @Natasha_Tracy on Twitter.