I May Have BPD, But I'm More Than Borderline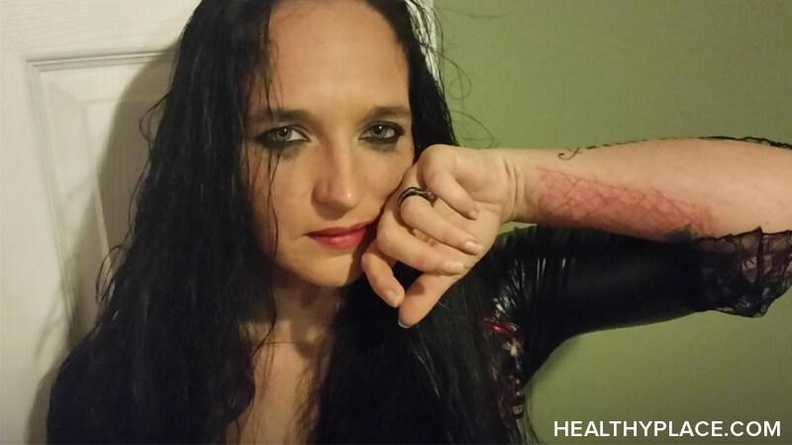 My name is Becky Oberg, and I have borderline personality disorder. I began self-injuring in college after witnessing an assault. I blamed myself for not being able to stop it—even though I'm a five-foot tall woman and would've been taking on two men, both of whom were about a foot taller. I began cutting out of guilt. I believed that if I hurt myself, I would learn to not fear pain, and if I did not fear pain, I could override it and take control of any situation--even one in which I could be seriously injured or killed.
Implications of Borderline Personality Disorder Diagnosis
Some psychiatrists will diagnose a patient with borderline personality disorder, or BPD, solely on self-injurious behavior. However, the patient must have five of nine specific criteria for an accurate borderline personality disorder diagnosis.
But whether or not the diagnosis is accurate does not matter to some mental health professionals—the BPD diagnosis, sometimes referred to as "a psychiatric death sentence", is often used to describe "difficult" patients. That makes it easier to write off cries for help as cries for attention, and to dismiss the patient with "You're just a borderline."
My BPD Treatment Experience
I began dialectical behavioral therapy (DBT) as part of my BPD treatment and found it didn't help me at all. As a result, I was labeled "treatment-resistant". With that label, I found myself among the uninsurable uninsured. As a result, I soon found it difficult to receive the treatment I needed. I wryly commented to my mother that I was no longer profitable.
As my condition worsened, I decided to move into the Indianapolis city limits, where I would be eligible for better treatment. But by this point in time I could no longer function. Some of it was my fault—my love of Stolichnaya vodka, for example—and some of it was beyond my control—stress from a stalker, stress from police who refused to enforce the protective order, stress from coverage gaps in Medicare Part D.
I finally suffered a total breakdown and asked to be placed in the inpatient unit for BPD at Larue D. Carter Memorial Hospital. However, this required a court commitment. I was placed on the wait list and sent to Richmond State Hospital in Richmond, Indiana.
During my time there, I began suffering flare-ups of previously diagnosed and documented medical conditions. Multiple requests for medical treatment were denied; they assumed I was faking. Curiously, so were multiple requests for mental health treatment—no group therapy, no individual counseling, no meetings with the treatment team, no notifications on when my medications were being changed. Staff was sometimes abusive—something still very difficult to talk about.
I quickly became suicidal and told multiple staff members. Other patients and my mother also told staff that it was serious, especially since someone I knew had just ended her life.
Staff ignored me until I made the attempt.
When I demanded an explanation, they refused to give one. After I went on a nonviolent "treatment strike" for four days (nonviolently refusing all treatment and becoming physically ill as a result), the psychiatrist agreed to meet with me.
"We had another borderline here, and every other word out of her mouth was 'suicide', so we figured you were the same way", he explained. But I couldn't trust his promise that it wouldn't happen again—there were simply too many that he'd already broken. I was just a borderline.
Good BPD Treatment Can Have Positive Effect
When I was transferred to Larue Carter, I did not trust anyone and would quickly tell them why. I did not believe the program of schema therapy would work. I did not believe I would be taken seriously.
I was wrong. The staff on this unit were trained specifically to deal with borderline personality disorder, which enabled them to eventually earn my trust. The psychiatrist and the unit director were often on the unit, and they took time to listen to patients and try to help them. Staff was held accountable, as were patients. For the first time since my borderline personality disorder diagnosis, I was more than "just a borderline".
I spent nine months at Larue Carter, learning what my emotions were (how can DBT work when you can't describe the emotions?), what situation had triggered them, what I was thinking as a result of the emotions, what I needed or wanted, how to analyze the facts of the situation and what mode of operation, or schema, I was in.
The BPD treatment program was so effective that within a year of being discharged, I was living alone in a cluster apartment and working as a freelance writer.
While at Richmond, I promised God that if he got me out of there alive, I would go back home to Indianapolis and educate people about what pitfalls to avoid. I consider this job the perfect opportunity to do just that.